Apple offers numerous advantages to its users, from saving data on iCloud to various features for maintaining privacy. Likewise, it also supports functions such as contact removal on iPhones, quick charging of Apple pencils, and much more. Besides this, the TFW network, or the TFW carrier, is another significant network element for iPhones. You must be familiar with it.
The TFW icon on iPhones is a cell phone carrier that helps its users in testing, calling, or using the internet. It provides support through other wireless carriers' services, such as Verizon Wireless. It is so popular as it has more than 5 Million users in the US only. Furthermore, it does not own any contracts to provide network carrier services from its own side.
Along with this, it offers plenty of benefits to TracFone users. For instance, if you want to make a call, you can do it anywhere in the US, irrespective of your phone's tariff.
In this article, we will uncover the consequential features of that small TFW icon present on your iPhone, evoking curiosity among many users. So, keep reading.
What Does TFW Mean on iPhone?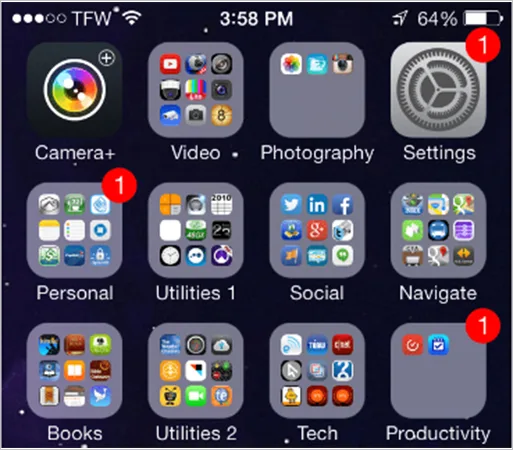 The TFW meaning on iPhone is an acronym for TracFone Wireless, a cell phone carrier. It is a prepaid service provider that offers services like; call, text, and data on your devices. In the United States, it is the most popular prepaid service provider.
Hence, when your device displays TFW, it symbolises, it is running on TracFone Wireless Network. Sometimes people are confused about whether TFW is a carrier or a company. Well, it is a phone carrier company subsidiary of Verizon Communications, supporting popular wireless carrier services to benefit its users.
We will discover the various types of networks in successive sections that are associated with TFW.
What are the Various Networks Available on TFW?
As TracFone is MVNO, it utilises most of the cell phone network providers, which are AT&T, Verizon, and T-Mobile. You can see various symbols on the status bar of your phone. These symbols are based on the plan you subscribed for. The symbols are as follows:
GSM, Global System Mobile, and CDMA; Code Division Multiple Access that were even used in older versions.
LTE, Long-Term Evolution; the fourth generation of Wireless technologies.
5G, is the fifth-generation network service with faster downloads, lower latencies, and many more benefits.
The TracFone Network is one of the largest prepaid networks in the United States and provides various plan options suitable for any budget. It is a reliable TFW network because it offers single-line and multi-line plans that users can choose from according to their convenience.
They have a range of products at competitive prices, from headphones to high-end iPhones, carved for budget-minded consumers across the globe. Hence, if you are looking for plans with reliable coverage and budget-friendly options, TFW service is an excellent choice, especially for iPhone users.
What are the Advantages of Using the TFW on Your iPhones?
The TFW network helps its users to access the internet anywhere across the globe. Additionally, it does not compromise with the data frequencies that remain the same as the wired networks. Thus, it becomes easier for its users to connect and use.
Besides this, it offers several advantages over the standard wireless network, some of which are listed below:
Enjoy a seamless connection to your phone anywhere in the world.
It gives zero worries about losing your phone or getting connected to the wrong network.
It supports less latency while connecting to others on this network.
Use more reliable and faster data than regular wired connections.
Take advantage of high speed while streaming videos, surfing the internet, and playing games because of the increase in bandwidth.
It boosts confidence in your device's protection from unauthorized access and data theft.
This TFW service is favorable for chatting, watching movies, or utilizing online services.
It also accelerates your transactions due to its higher speed.
There are no contracts to utilize their plans.
Choose from affordable options if you don't use much data.
The TFW is an excellent option if you wish to change your wireless network service. It provides better coverage and competitive favors.
How Can You Activate the TFW SIM Card on Your Phone?
Whenever you purchase a new phone, it comes with a SIM card. You can transfer your remaining calls or messages to the newer SIM card and utilise them once you activate the network. Also, to activate TFW on your iPhone, you must follow the precise steps. Hence, do follow the instructions carefully that are explained here;
Go to the devices' setting menu.
Accept the company's terms and conditions.
Your device is ready to use.
How to Change the Service Provider on Your iPhone?
Firstly, you must check whether you have a locked or an unlocked phone. Changing service providers with unlocked phones isn't an easy cup of tea. You can easily change the service provider on your iPhone by following these steps;
For Unlocked Phone
If your phone is not locked, you are good to go to switch the carrier you want to use. Still, you must be vigilant while switching the phone's carrier because even minor mistakes can hamper your calls, texts, and other functions. So, execute the steps that are explained here,
Go to Settings from the Home screen.
Then, Tap on the Cellular network.
Now, Tap on Automatic Switch to turn it Off.
Tap on the Desired Carrier.
Look for signal bars on your status bar.
For Locked Phone
Firstly, you need to connect to the service provider and ask them to unlock the network. Fill in the credentials to open it. Follow the instructions provided here:
If you got a new SIM for activation from the new service provider, insert it after removing the older one.
If you do not have a new SIM card, delete the whole information after creating a backup.
Now restore the data so that your phone gets available to other networks.
It was pretty easy; let's now explore what to do if you encounter a TFW error claiming, "Data not working."
How to Fix the Error of the TFW 'Data Not Working'?
It might be annoying to sort out the error of TFW data not working on your iPhone. These may arise due to bugs and errors. A device associated with TFW may experience this due to a lack of data signals or no data signals at all. It is because TracFone does not have its tower. Even though you can sort it. A few ways to fix it quickly are explained here;
Long press the power button and select Restart from the Menu.
Turn on the Auto-update feature, or check firmware updates.
Turn off VPN if it causes troubles, Uninstall it, and then Restart.
Remove and Re–insert the SIM card of your phone.
Seek help from customer care service if the above steps don't work.
Well, error fixing is not very tough. Isn't it?
Key Takeaways
You must have understood, "What does TFW mean on an iPhone?" In the above article, we can conclude that the iPhone on the top-left or top-right is a good indicator. It shows that your device is associated with TracFone Wireless Network. Due to this, your phone is working with phone calls and texts.
With time, Apple has evolved its hardware and software to provide high-quality services to its users. There are so many carrier services Verizon supports to allow its users to utilise its benefits for iPhone users. Aspiring TFW users can activate this on their devices if the version supports it. In addition, changing to another service provider is quick in locked or unlocked phones with the methods described above.
FAQs
Ans: The TFW option, near Wi-Fi on your phone, simply means you are currently using a TracFone SIM card. 
Ans: The TFW LTE symbol present on the top of your phone is an acronym for TracFone Wireless Long-Term Evolution. It provides faster internet speed and more coverage. Therefore, you can enjoy faster downloads, low latency, and better coverage.   
Ans: Although it is a difficult task, it is not impossible. If you want to switch to TFW, make sure your device is compatible with it. 
Ans: TracFone offers both prepaid and postpaid plans. Prepaid plans range from $20 to $50 and vary based on the talk, data usage, and texts. However, to pay after use, post-paid plans can range from $30 to $100 or even more. The activation fee of $10 to $30 is involved and ranges according to the chosen plan.   
Ans: Well, in most cases, phones sold by TracFone are locked to their network. But now, you can also get an unlocked TFW carrier phone and request the carrier service to unlock it for you. 
Ans: After 2014, it is impossible to eliminate the TFW service on your device. Earlier, it was possible to tweak carrier settings on the device before installation. But, still, if you want to do that, you'll need to jailbreak your device. After that, you can get rid of TFW on your iPhone.
Ans: Many MVNOs provide affordable postpaid plans in America. So, if you are looking for reliable alternatives for TFW for your iPhones, here are a few you can consider;
AT & T
T-Mobile 
Verizon Wireless
Ans: No, the TFW network showing on your phone status bar is not a reason for concern. It indicates that you are connected successfully with the TracFone Wireless Network. Still, you may need to worry if you are not using TracFone Network (or don't want to be there) and still see the TFW network on your device. Connect to the TFW service to connect to the new service or figure out what is causing the trouble. 
Sources:
---
Also Read: