What will you find:

The fastest way to Turn Off the Silent Mode on iPhone: Observe the switch key.

If the light is orange, it is "Turned On."
If it is not orange, it is "Turned Off."

Use methods like Assistive Touch to disable silent mode, if the ringer switch is broken.
Investigate your "Silence unknown callers" feature, in case you are missing your calls continuously.
Have you ever encountered a situation where you are missing your calls, and you end up trying to figure out how to turn off silent mode on iPhone? It can actually turn into a state of panic if you miss something very urgent. However, once you know how to fix it, it won't trouble you at all.
iPhones are embedded with advanced and easy-to-access features, such as FaceTime, Back Tap, etc. Apple consistently puts efforts into upgrading its devices' attributes and enhancing their accessibility; Silent Mode is one of them. Similar to turning off the SOS feature, you should know how to disable the silent mode on your iOS device.
Let's hop into the article and discover how to take iPhone off silent mode with the quickest fixes.
What is the Silent Mode Feature in an iPhone?
Although, you might already know how important the Silent Mode on iPhone is, especially when you want to mute annoying calls and notifications. It also eases your efforts in planning your screen time by enabling the DND (Do Not Disturb) mode so that you can focus on significant aspects. However, you probably don't know, "How to take iPhone off silent mode?" but knowing it can rescue you from missing that super-important information by getting notified at the right time.
How to Turn Off Silent Mode on iPhone?
If you are someone who wants to seek precise solutions to, "How do I turn silent mode off on my iPhone?", these techniques explained here will certainly be helpful. As the situation often occurs due to software bugs, you need to apply some fixes.
The top 9 fixes to turn your iPhone silent mode off are explained below:
Use the Switch Button
It is the easiest method for an iPhone to turn off silent mode. On the left side of your device, this Switch button is present. Implement the steps as explained here;
Navigate to the Side Switch Button
Flip it toward the upward side.
A Bell icon with a line will flash, indicating silent mode is turned OFF.
Using the Volume Button
You can use the volume button and quickly do it. Long press the "Decrease volume" key until it flashes "mute" on the screen. It will turn On the silent mode and vice versa will turn it off again. In case you are unable to access the feature using the volume button, try to opt for an alternative option of silencing the other sounds. Simply, decrease the volume of the app that is playing media, and make it quiet.
Using the Setting Interface/ Without Button/ Assistive Touch
Setting interface is a great option to turn off silent mode on iPhone when the Power button is not working properly. Implement these instructions to enable Assistive Touch.
Hop into Settings.
Go to Accessibility.
Find Assistive Touch through the touch option.
Toggle it to On, and it will turn Green.
Along with this, you will see a Black button on your screens.
Tap on the button to access its Menu
Click on Device, then, Unmute it.
Tip: If your button is still working, tap it twice to achieve the desired result.
Set up a Silent Ringtone to Fix It
You must be aware of how to enable different ringtones on your device. For instance, if your switch is not working or is broken, you can use this as an alternative. Setting up a silent ringtone will help you mute your device's sound. Follow these stepwise instructions;
Unlock your device and jump into Settings.
Go to sound and haptics and then Ringtones.
Navigate the silent ringtone at the tone store to set it up.
Set it as the default ringtone of your phone.
Enable Airplane Mode
It might be possible that you are not receiving your calls because your network synchronization is improper. Toggle the Airplane Mode to set your device to its default sound settings. The stepwise approach is:
Navigate to the Control Center and tap on the Airplane icon.
Wait for a few seconds or 1–2 minutes.
Now, tap again to Turn it Off.
Another Method: Go to Settings >> Tap Airplane Mode >> Wait for 1–2 minutes >> Disable it
Restart the iOS Device 
In situations when the device hasn't been started properly, it enables the silent mode accidentally. So, go for a quick Restart to set up the power cycle at work.
Press the volume and power buttons simultaneously. Otherwise, if you have an iPhone 8 or older model, press the power button and hold.
You will see the Power slider, Slide to Turn Off, and restart it again.
Your phone will get restored to its default functioning after restarting…….
Set None as the Text Tone Feature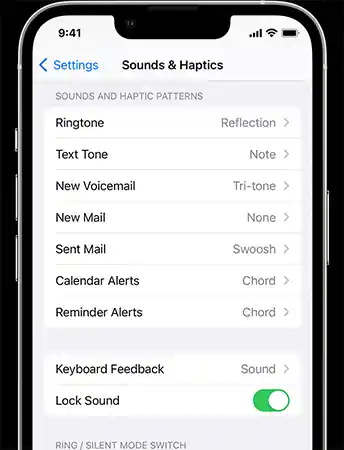 If you are getting some kind of sound-based notification alert but want to make it silent, try to set that tone as silent. It is helpful when you don't know how to get your iPhone Off silent mode.
Jump to Settings and the "Sound and Haptics."
Land to the text tone option.
With this, the Silent mode will be enabled on your device, and you can rest without any interruptions from notifications or sounds from calls or messages.
Try Force Restart 
Sometimes, due to software pitfalls, it might be possible that your device is facing issues. A force restart can be helpful in preventing those troubles. Hence, follow the steps described here;
Jump to Settings >> General >> Tap on Shut Down.
Swipe to the right using the slider.
Wait for 30 seconds to 1–2 minutes.
The problems due to that would get fixed.
Fix your Device's iOS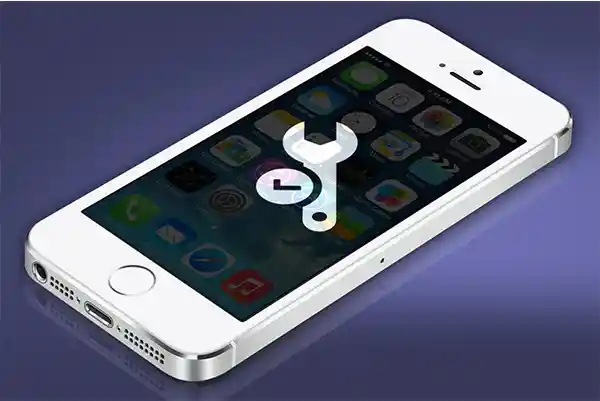 For instance, if your device's functionality hasn't been restored, it might be possible that there are non-traceable software issues. In such cases, if you want to know how to get iPhone off silent mode, the solution can only be offered by an expert. So, without applying any random tricks, connect to the technical team.
Bonus Tip: Try Back-Tap Feature
It is one of the best features that have been released in a while. This intelligent feature allows you to tap at the back of the device to perform a feature.
The two gestures supported are Double & Triple Tap. You can choose anyone for a wide range of actions. It can assist you in quickly switching between the Silent and Ringer profiles of your device.
Hop into the Settings icon.
Enter Accessibility >> Touch >> Back Tap Option.
Pick the option of Double Tap or Triple Tap as per your preferences.
Proceed to select the Mute at the consecutive screen.
Now, you can utilize the action to toggle between the Ringer and Silent Mode easily.
How to Turn off the Vibrate Feature When Your iPhone is Silent?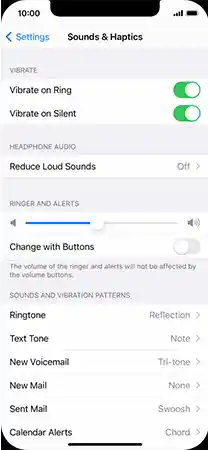 Vibrations are annoying too. Hence, when you choose to mute other notifications, opt for silencing the vibrations as well. Execute these stepwise instructions and get this done.
Head to the Settings apps.
Locate Sounds & Haptics at the top of the screen.
Turn off the vibrate mode on the silent feature.
Note: If you want to just turn off the vibration while keeping your device on Ringer Mode, you can do that too by toggling the button, as explained here. It will help you keep the notification sound On and the vibrations off.
How to Turn on the Silent Mode on Your iPhone?
You must be aware that all iPhones do support Silent Mode, so if you also want to activate it, you can implement the steps that are discussed here:
From the Sound menu, Turn Off all the vibrations.
Move the Switch button to make it Orange.
Your device will show a bell with a line on it.
With this, the Silent mode will be enabled on your device, and you can have your downtime without any interruptions from notifications or sounds from calls or messages.
How to Silence Specific Apps on Your iPhone?
Do you know iOS allows you to turn off the specific apps of your preference from making any notification sounds or vibrations? Follow up on the instructions explained here to do this:
Hop into Settings.
Access the Notifications.
Locate the app, toggle sounds, and mute it.
Using these steps, it is easier for you to enable the silent mode on your device and enjoy your leisure time without any interference!
Choose Silent Mode or Do Not Disturb Mode?
DND is another method that you can pick up when you need some rest. This feature allows you to shush the vibrations and sounds completely. You can either manually turn it Off and On, or set up a schedule for automatic functioning.
A tip: You can also receive some calls or messages while your phone is in Do Not Disturb mode if you have enabled notify anyway feature. Furthermore, you can choose to enable this feature when your phone is locked, or you are driving.
Quick Wrap
With these methods, it is easy for you to disable your iPhone Silent Mode. Obviously, the Ringer Switch is the best shortcut to enable sound mode on your device, but sometimes it may become non-functional, and in such cases, you can deploy the touch assistant or try the fixes that are described above. The DND also offers options to mute the sounds, so in case you are unable to switch off the silent mode, try this or customize muting notifications of specific applications as per your preferences.
For more information in this context, visit the Apple Support page. Explore more, or seek professional assistance on Twitter.
Hope, you got your work done in a jiffy with these FIXES!
Read Next: How to Clear Cookies on iPhone
FAQs
Ans: In this feature of the iPhone, the light dims out, calls get silenced, and notifications only get popped-up on the notification center. However, they turn back to normal when the scheduled time ends. 
Ans: Yes, you can put your iPhone into silent mode through the Assistive Touch or Back Tap process, as explained in the article. 
Ans: Yes, to unmute, use the Ringer button towards the upward side. However, if your Switch button is broken for some reason, you can also implement alternative methods like Assistive Touch. 
Ans: Execute the assistive touch approach. Go to Settings and tap on Accessibility, followed by selecting the device features. Tap on the Mute button to successfully put your device on Silent Mode. Repeating the same can also disable the silent mode. 
Check Ringer switch is not ON. 
Investigate if Silent Mode is OFF while trying assistive touch.
Check if "Silence Unknown Callers" is disabled, hop to "Settings"  >> "Phone."
Try to force restart if all three don't work for you. 
Sources: