AirPods have gained huge popularity since their launch in 2016, and now these earbuds are dominating the market with their premium and exclusive range of features. They serve as a convenient way of listening to music, enjoying podcasts, watching movies, etc., with extremely clear sound quality and long battery life.
Since their arrival on the market, it has been noticed that many users are buying these Apple earbuds to pair with their Android devices as well. Many people did the same thing with their Apple watches by connecting it with their Android phones. People do this because of the quality Apple products provide. You'll be surprised to know you can pair AirPods to Android devices, but it won't be the same as using it on an iPhone. Read the full article to know how to pair AirPods to Android devices, along with its features, compatibility, and alternatives for Android users.
Can You Use AirPods with Android?
This question often troubles many Android enthusiasts. Here is good news for all AirPods lovers, you can easily connect them to your Android, just like any other Bluetooth device. Not just for Android, these earbuds are compatible with all devices, such as laptops, smart TVs, etc., that support Bluetooth connectivity.
But the situation is not as favorable as it sounds. You have to deal with the issue of the non-availability of numerous AirPods' features on Android, which will be discussed further.
How to Pair AirPods to Android?
iOS supports the automatic pairing of AirPods with the device, but as an Android user, you have to do it manually, just like any other Bluetooth device. Let's understand how to put these Apple earbuds in pairing mode.
To pair your AirPods, AirPods Pro, or AirPods Max with any Android device, you are required to follow the given steps:
Go to Settings on your Android.
Open the Connections setting page.
Navigate to the Bluetooth option.
Turn on the Bluetooth.
Now, do one of the following as per the model of AirPods that you have:
For AirPods and AirPods Pro: Open the lid > Long press the setup button (for about five seconds or until the status light flashes white).
For AirPods Max: Long press the noise control button of your earbuds for about five seconds or until the status light flashes white.
Tap on Scan or Search for Devices to find your AirPods in the list of Available Devices.
At last, tap on the earbuds' device name from the list and then tap on Pair to confirm the pairing of AirPods to Android.
Once your earbuds get listed among the paired devices, you don't have to repeat the process again and again while connecting AirPods to Android. They will automatically get connected to your device every time you turn them on.
AirPods Features that Work on Android
Does Apple AirPods work with Android? This is one of the most common questions of Android users who want to get an amazing experience of audio with these earbuds. AirPods do work with Android, but users can only enjoy some limited attributes of them with their Android. They include the following:
Command Gestures
The feature of command gestures of this Apple audio output device is accessible on Android. By double tapping, you can play or pause the music on the 1st and 2nd generation AirPods. You can also access the playback controls features on your Android for 3rd Generation AirPods, Pro, and its Max versions.
Single AirPod Listening
Just like on iOS, you can also use one of the AirPods pair on your Android as well. To let them work independently, you simply need to go to Settings > Accessibility > Switch the sound output from Stereo to Mono Audio to enjoy the full audio experience.
However, in the case of some older models of these earbuds, the mono output feature can be accessed by putting them back into the charging case and then taking only one earbud out of the box.
ANC & Transparency Mode
Users can access this feature of their Apple earbuds on Android as well. They just have to touch the noise control button on AirPods Max or make a long squeeze on the AirPods Pro stem to enable ANC & Transparency Mode.
Even after the availability of these exclusive features, one of the major things with which you may have to compromise while connecting AirPods to Android is the sound quality. Not only the sound quality, but you have to sacrifice several other cool characteristics as well, like virtual assistant, customizable controls, automatic switching, etc. Detailed information about them is given further below.
What Are You Missing Out With Your AirPods-Android Combination?
One of the prime reasons behind buying AirPods is the additional range of features that comes with them. But what if these attributes are not applicable to your Android device? This will make your investment a complete waste. It happens because the hardware of Android does not support the H1 and H2 chip.
Here are numerous advantages of these earbuds that can be accessed on iOS only. They include:
Siri
Apple's virtual assistant, with AirPods, is only available to iOS users. It helps them to access voice commands and various other features such as read-out iMessages, and battery life. These earbuds do not support Google Assistant.
Full Spatial Audio
To get a full-blown experience of Spatial Audio, it is required to pair AirPods with an Apple device. This attribute gives a theater-like sound experience and makes you feel like the sound is coming from all directions.
Along with dynamic head tracking, AirPods also provides Spatialize Stereo feature, which generates similar sound effects with regular, non-Dolby-Atmos-encoded soundtracks. This can give a wonderful experience while watching a movie or a video. Unfortunately, Android users can't enjoy Spatial Audio as well with their Apple earbuds.
One-step Setup
iOS users can easily do the one-step pairing with their AirPods. For this, they just have to take their earbuds close to their phone, and they will get connected to the device. This attribute of Automatic Pairing or One-step Setup is not available for Android users. They have to do pairing manually by following the process that has been described earlier.
Automatic Switching
The automatic switching feature is available to Apple users only. It allows AirPods to swap automatically within the Apple ecosystem. But as Android users, if you want to switch these earbuds between devices, you have to do it manually. The iCloud pairing option is not helpful for you.
Automatic Ear Detection
This iOS-dependent feature of earbuds can't work with Android. As an Apple user, whenever you remove the earbud from one ear, AirPods automatically detect it and pause the playback, and when you put it back, the audio will resume.
'Find My' Function
This Apple-designed app is exclusively available to iOS users. It helps them locate their AirPods in case they lose them. All these earbuds are automatically registered on the Find My App. But sadly, AirPods do not support this characteristic on Android devices.
Audio Sharing
iOS users can also get access to nearby audio-sharing features of AirPods. With the help of it, two users can share the currently playing music or audio by connecting two pairs of AirPods to one Apple device.
Battery Life Check
iPhone users can get on-screen and tonal notifications for their AirPods battery status at 20%, 10%, and 5%. Also, they can check the real-time status of their battery life using Siri or the iOS Control Center. The feature can not be accessed by Android users. However, some apps can help you check the battery status on your device as well.
Ear Tip Fit Test
This characteristic of AirPods provides the best seal for ears by using in-built microphones that can easily detect audio leaks. This exclusive iOS feature can't be enjoyed by Android users. Because of this compromised isolation, there will be a lack of bass in your music, and more external noise will interrupt it.
Customizable Controls
Unfortunately, Android users can't get access to the customizable controls of AirPods that can be activated using gestures such as double tapping in the case of 1st and 2nd generation AirPods. This feature is available to iPhone users only.
Conversation Boost
This characteristic of AirPods Pro is specially designed for iOS users with mild hearing issues. It emphasizes the audio and makes it easier to hear by using a combination of beam-forming microphones and computational audio. Android devices do not have access to this benefit either.
Adaptive EQ
This feature of AirPods allows Apple users to adjust their sound in real time. The equalizer adapts according to the ambient sound and compensates for the noise to give the best listening experience.
No doubt, AirPods are a good choice to enjoy many unique attributes and a top-notch audio experience. But their full return on investment can be leveraged by iOS users. Android users have to lose this experience.
Also Read: How to Charge an Apple Pencil Through an iPad?
Effects on AirPods' Performance while Using on Android
AirPods' hardware is designed in such a way that they perform well with Apple devices only. Using them with Android leaves some major impacts on their battery life and audio quality.
Affected Battery Life: Often, the users of truly wireless earphones suffer from the problem of limited battery life. To conquer this issue, Apple introduced many battery-saving features in their AirPods, such as automatic ear detection, battery life check, etc. These small features enhance the battery life. But unfortunately, these features can be accessed by iOS users only, not by Android users, which increases the battery consumption of their AirPods and discharge the battery sooner.
Affected Sound Quality: As we know, AirPods are mainly designed for iOS users, that's why its Adaptive EQ, ear tip fit test, and Spatial Audio feature can not be enjoyed on Android devices. Sound quality is something that you would not like to compromise, at least not after investing a lucrative amount in earbuds.
Because of these major reasons, AirPods do not serve as a full-fledged package for Android users. However, there are some third-party apps that can generate hope for users by offering some of these Android-prohibited features.
Third-Party Apps to Enhance the Compatibility of AirPods with Android
As described above, there are so many attractive characteristics that Android users can't access, but all of them are not lost. The users can enjoy some of those plus points of AirPods on Android as well by installing various third-party apps on their devices. Three of such most popular apps are listed here:
Wunderfind 
This app works as an alternative to the Find My AirPods app on iOS. With the help of Wunderfind, users can find their earbuds as well as other Bluetooth devices even on their Android. The app shows a score to represent the distance between your device and AirPods. The score gets higher when you get close to them.
The premium version of the app also generates a sound to speed up the search process. However, the app does not give exact directions to the device but can provide an idea.
AirBattery App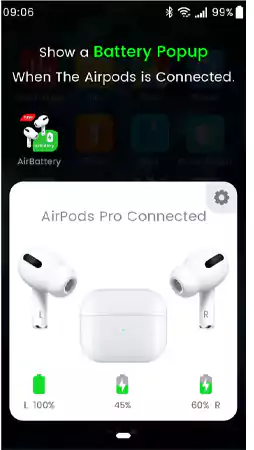 This app can easily be installed from Google Play on your device. AirBattery App allows Android users to check the battery status of AirPods and also offers the ear detection benefit by supporting the W1 and H1 chips.
Assistant Trigger App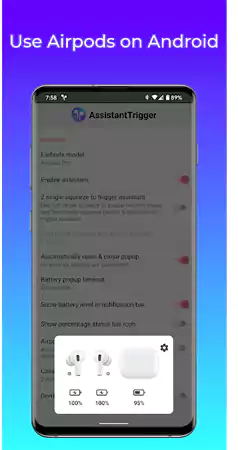 This app is also available on Google Play. It allows you to get access to Google Assistant by integrating the functionality of Android and AirPods. With the help of Google Assistant, you can play music, set alarms, control the automated devices of your home, transfer message from Android to iPhone or any other device, etc. It can be activated simply by tapping twice on your Apple earbuds once you've installed the Assistant Trigger app on your device.
Even though these apps are not perfect, they can make users' experiences of AirPods with Android much better by providing several iOS-exclusive features. Also, as an iOS user, you can try so many best planner apps for iPad and iPhone to enhance your experience with various additional and cool qualities.
To add value to your money, you can try some other popular earbuds as an alternative to AirPods, which are not just pocket-friendly but also give a trendy look.
Premier Alternatives of AirPods for Android Users
What makes AirPods different from other earbuds is its set of unique and advanced features. But most of them are not accessible to Android, which reduces their value for these users.
So, if you want to get a substitute for AirPods which is compatible with Android devices so that you can get the maximum return from the product, we have prepared a list for you:
Some of these options are cheaper than AirPods, while others may provide comparatively more features to Android users. They provide the accessibility of Google Assistant or Alexa support, which makes them worth buying.
Also, if you are looking for a smart speaker, you can check Google Home Max, which contains a range of mini speakers and big massive speakers to give a theatrical experience.
Final Thoughts
I hope your doubt on 'Do AirPods work with Android?' is cleared now, and you can decide whether AirPods are a right fit for you or not after learning about their Android-accessible and non-accessible features.
We do not claim that AirPods are a bad choice for Android users. But that's true, and they do not serve as a complete product for Android devices. And if these non-working attributes are affecting your smooth user experience, you can easily opt for any of the alternative earbuds from the list shared above.
Sources:

Also Read: