Google has a range of smart digital devices in almost every category. The series of smart speakers is one of those categories. Google has named its home audio series "Google Nest" (previously known as "Google Home"). This line-up has a range of audio devices. Starting from portable mini speakers to big massive speakers with all capabilities.
Google Home series has Google Home Mini, a portable mini version of Google Home. Second, Google Home, which is a smart audio device controlled by voice, and finally, Google Home Max.
In this article, you will learn more about Google Home Max White, its features and specifications, and whether you should consider buying one.
Specifications of Google Home Max White
It is significant to know more about your purchase, and since it is a very costly product, it becomes even more important to know more, and more about it. Therefore, go through the following table about Google Home Max.
| | |
| --- | --- |
| Model No. | GA00222 |
| Weight | 5.3 Kg |
| Dimensions | 33.5 × 18.7 × 15 cm |
| Colors | Black Charcoal And White Chalk |
| Release Date | December 11, 2017 |
| Ports and Connectivity | 1 USB Port, 1 Charging Port, 1 Audio Jack |
| Warranty | 1 year |
| Debut Price | $399 |
These were some basic specifications of the device. Now let us dive deep into some pros & cons that Google Home Max offers.
Pros & Cons
Everything has its advantages and disadvantages. In some aspects, Google Home Max speakers can be better than its competition, but in others, it can be worse, too. Since we have discussed so much about it, we should now be discussing some pros and cons.
| | |
| --- | --- |
| Pros | Cons |
| Good sound | Expensive |
| Can be used as Tv speakers | Heavy |
| Sleek Body Design | Audio Distortion at high volume |
These are some pros and cons of Google Home Max White. Now we will discuss the box contents of the Google Home Max.
Box Contents
Since Google Home Max was discontinued, the box would not be easily available in the market. But there are some basic contents that you must confirm before buying.
The contents that you received in the box were:
1 Google Home Max speaker
1 Power Cable
1 Magnetic Soft Base
1 User Manual
These are the contents that you should look for before you empty your pockets for a new Google Home Max White. Now it's our turn to share some features with you.
Google Home Max Speaker Features
Now, some of you might ask if the Google Home Max is discontinued. Well, yes, Google has officially discontinued the production of this product. But still, the features on this device are amazing and worth having a look at. So here are the features of both Google Home Max White and Black.
Also Read: Demystifying Business Valuation: How to Determine the True Value of Your Business
Google Assistant
Both Google Home Max, white and black, have Google Assistant, which allows you to give voice commands to the device. This device can be completely controlled by voice.
To use this feature, you have to download the Google Home app on your device through Play Store or App Store. You have to pair this speaker with your device on the Google Home application. After that, every time you say "Ok, Google," this speaker will be there to follow your commands.
This speaker can do almost every basic task, like playing music; you can ask questions that you don't want to search on Google, like temperature, routes on maps, recipes, etc.

This device can play songs through YouTube or Google Play Music. However, it cannot play the songs that are locally downloaded on your mobile phone. For that, you have to use Chromecast. The audio quality of this device is brilliant. It has a loud and bassy sound profile which can give you a delightful experience.
Smart Home Connectivity
As the name suggests, this device can get connected to any smart appliance in your home. It connects with smart appliances like bulbs, fans, thermostats, and AC and controls them accordingly with your voice commands.
To connect Google Home Max White with your smart appliances, you have to use the Google Home application.
This feature can be a bonus for those people who just want to lay back on their bed and still want their work done, like turning off the lights, increasing the temperature, or turning on/off the fan.
Bluetooth
We know that Google Home Max can be connected via the Google Home app, but there is one more option through which you can connect your device to the speaker wirelessly, i.e., via Bluetooth.
It gives the option to connect the device without using the application. It does not matter whether you are using an iPhone or an Android; you can use a device with any operating system.
This speaker uses Bluetooth Version 4.2. It can feel outdated in today's world as there are so many other options at the same price bracket.
Speakers and Tweeters
This device has a huge speaker driver size. On average, a pair of good-sounding earphones consist of 8-10 mm drivers; similarly, the drivers of an average on-ear headset range between 30-40 mm. But Google Home Max White or Black comes with 4.5 inches woofer and 0.7 inches tweeters.
This pair of woofers and tweeters give this speaker a splendid sound quality with great bass and trebles. The sound profile of this device will surely impress you.
But, some alternatives to Google Home Max speakers can give some great competition in terms of audio quality. You will get to know about the competition later in this article.
Let's Discuss Design & Build
Google Home Max has a completely plastic build. The quality of plastic used is decent and durable. The shape of the device is rectangular, and the controls on the speaker are completely touch-enabled and are placed on the top of the speaker.
The speaker is covered with fabric mesh that protects the speakers from external damage. However, the body does not have any aggressive or sharp elements. The design has its own elegance.
Some points from the design that will give you a glance at the speaker and whether it will be a good option:
Portability
If you are expecting a speaker that runs on a battery or can be placed anywhere, sadly, Google Home Max would not be a good option for you. But you can still check out Google Home or Google Home Mini.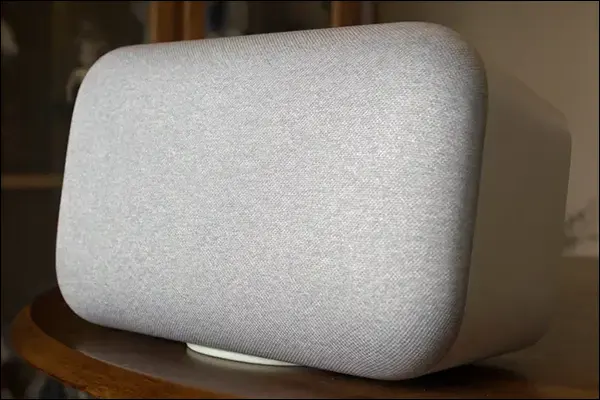 There is no doubt it gives a loud and crisp experience, but in terms of portability, the remarks for this speaker are not very good.
Moreover, this speaker only works on AC (Alternative Current), which means that you have to connect it with a power cord to a power socket. Therefore, a place near a power socket will be a good place to keep it.
Ports and Buttons
Ports and Buttons on the Google Home Max speaker are arranged in a very minimalistic way. Each port is given within a dedicated housing in the bottom-left corner of the back. It comes with a port to connect the power cable, a USB C-type port, a headphone jack, and a power button to toggle it on or off.
The volume bar on this speaker is given at the top. It is a touch sensor that is controlled by gestures with your fingers. You have to glide your hand on it, right or left to increase or decrease the volume.
Build Quality
At this price point, the consumer expects a high-grade build quality of the product. Keeping this thought in mind, Google has made this speaker using tough and durable materials. But, obviously, a plastic body would be less durable and weaker than metal or aluminum bodies. The fabric mesh on the front of the speaker is made with nice fabric. However, since it is a fabric, the chances of wear and tear are high.
Google claims that the products of its "Nest" and "Home" series are made of 70% recycled plastic. That means you have somehow participated in protecting the environment by purchasing it over any other alternative.
Other contents of the box, like the power cord and magnetic soft base, are also made of premium quality material.
Controls
The controls of this Google speaker are quite responsive and durable. The power button feels responsive and tactile.
The volume touch bar on the top of the speaker is also decently accurate and gives a nice response to the gestures. The touch bar does not control only volume options but also performs some other tasks like answering or ending phone calls and playing or pausing music.
The microphone on this speaker is located at the back.
This was a bit of a glance at Google Home Max's design and build. Make sure you check the contents that you are getting with the device.
Now we will continue this article with some more discussions.
Google Home Max Pricing
The Google Home Max white and black were introduced at the price of $400 in the USA. The price has been fluctuating since its release according to its demand.
Therefore, you have to buy a pre-owned version of Google Home Max. Everyone has their own opinion on if you should buy a used product or not. You can see this product in some online stores like eBay or Walmart.
However, if you are still willing to buy one for yourself, the cost of a pre-owned version of the Google Home Max speaker will vary from website to website and with the condition. With more wear and tear, the cost will keep on decreasing. But still, you can expect it to cost you between $150 – $200.
You can buy Google Home Max White or Black here.
Is It Still Worth Buying?
Since Google Home Max has been discontinued by the manufacturers, it is obvious that you have to buy a used model. Many websites like eBay and Walmart are selling their pre-owned versions.
No doubt that this device offers great features and sound quality, but you have to admit that a pre-owned unit can come with many problems and technical difficulties. Major wear and tear can also be seen on the device.
To know the answer that if it is still worth buying in 2023, we should compare it with some other products available in the same price range.
In the next section, we will compare Google Home Max with some of the other products that are available at the same price point.
Best Alternatives to Google Home Max White
These products can be considered the best competition for Google Home Max. Go through this brief comparison to make your decision process easier.
While researching, we were able to find 2 more alternatives from one of the most popular audio brands in the world.
Sonos Roam
Amazon Echo Studio
So, let us compare them with Google Home Max White and find out which one is better for you.
| | | | |
| --- | --- | --- | --- |
| | Google Home Max | Sonos Roam | Amazon Echo Studio |
| Condition | Used | Brand New | Brand New |
| Colors | 2 (Charcoal, Chalk) | 5(Shadow Black, Lunar White, Olive, Sunset, Wave) | 3(Charcoal, Glacier, Glacier White) |
| Price | $159 – $199 | $179 | $199 |
| Waterproof | No | Yes (IP67) | No |
| Bluetooth | Bluetooth version 4.2 | Bluetooth version 5.0 | Yes |
| Wi-Fi | Wi-Fi 5 | Wi-Fi 5 | Wi-Fi 5 |
| Battery Life | Wired | 10 hr | Wired |
| Voice Assistant | Google Assistant | Works with Apps like Amazon Alexa, Google Assistant, Apple Siri | Alexa |
| Controls | Touch and Buttons | Buttons | Buttons |
| Application | Google Home | – | Alexa App |
| Portability | Not portable | Portable | Not Portable |
| Weight | 5.3 Kg | 0.43 Kg | 3.5 Kg |
| Wireless Charging | No | Yes | – |
| Microphone | Yes | Yes | Yes |
| Purchase Links | eBayWalmart | Sonos Official | Amazon |
This was a basic comparison between these 3 products and their specifications. This table will give you a brief detail about the products, and it will help you to decide which one is best for you.
Some Alternatives from Google
If you want to stay in Google's ecosystem, there are some alternatives that are provided by Google itself. These alternatives are equipped with Virtual Assistant (Google Assistant) that is able to work on your voice command as effectively as the Google Home Max speaker.
Google has updated its series of speakers line-up from "Google Home" to "Nest Audio." Therefore, the alternatives are listed in the updated versions.
Google Next Mini (2nd Gen)

Google Nest Mini 2nd Gen is the official successor of Google Home Mini. Although it is a mini version of Google Nest Audio, it is still as capable as its alternative.
Google Nest Audio
Google Nest Audio is the official successor of Google Home. It has all the capabilities that Google Home has and can perform even better than that. Google Nest Audio is a fantastic option for you if you are searching for alternatives to Google Home Max, which has been discontinued.
It also supports Google Assistant, which can follow all your voice commands.
| | | |
| --- | --- | --- |
| | Google Nest Mini (2nd Gen) | Google Nest Audio |
| Wi-Fi | Wi-Fi 5 | Wi-Fi 5 |
| Bluetooth | Bluetooth 5.0 | Bluetooth 5.0 |
| Colors | 3 Colors | 5 Colors |
| Power | 15 Watt DC Adapter | 30 Watt DC Adapter |
| Google Assistant | Yes | Yes |
This table is a brief display of all the basic features and hardware that these Google devices come with.
Conclusion
If you have read the whole article, you might have clarity on which option will be well-suited for you. It is pretty obvious that if you are still dedicated to buying Google Home Max, you have to go for a pre-owned unit.
A pre-owned unit has much more chance of having software issues or low sound quality due to wear and tear that it might be facing during its operating life. While at the same price point, you can go for a brand-new audio device with excellent sound quality and experience.
FAQs
Ans: There is no official statement given by Google as to why they have stopped manufacturing the Google Home Max White. The product just started showing "out of stock." A major reason can be that it did not give the expected response to the company.
Ans: It is possible that the date when Google Home Max was discontinued must be in 2019. There is no official information from Google about when they stopped manufacturing this product.
Ans: If you want to stay in Google's ecosystem, then Nest Mini or Nest Audio can be a good option for you. But, if you want a slight change in your life, you can also consider buying Amazon's Echo Studio. 
Ans: Google Home Max which is discontinued is able to do almost every basic task. Like controlling the thermostat and turning on or off appliances like fans, lights, etc.  
Ans: Well, there will be some things that you won't be able to experience on Nest Mini. The quality or loudness will obviously be less, but in terms of functionality, Nest Mini is almost as functional and practical as Google Home Max.
Ans: No, this device is not at all made for the outdoors. It only works with an AC connection, and also it has a very heavy and bulky design. You will not want to ruin your outing by managing a giant speaker.
---
SOURCES:
---
Also Read: