Taking pictures now and then is becoming a tradition whenever you are visiting events or casually clicking yourself. After all, it helps to rejuvenate those experiences.
But, wait! Have you ever come across a situation When you like your picture but don't feel like keeping it due to the background? Good tidings are that the emergence of Technology brings several advancements. The best example of it is the "PicWish app".
This application allows users to remove background from the picture and make it appropriate for further uses like posting it on social media platforms.
So, if you are tired of those ugly backgrounds, you can get rid of them by using PicWish. Do you want to know more about this application?
PicWish: AI Photo Editor
PicWish was founded in 2021 and since then it has stayed ahead of the list when it comes to trending background removers. However, leads the race. This application is recommended for designers, resellers, and merchants.
Apart from its most prominent background-removing feature, it offers a few promising features that can amp up your editing game. Those features will let you create and design pictures according to your taste and liking by using templates and customized backgrounds.
Accessibility + Pricing
While talking about its accessibility, it is available to all the popular web browsers such as Google Chrome, Safari, Firefox, etc, and compatible with Windows and Mac computers. It is even accessible to all Android and iOS users globally.
More often, it showcases a straightforward user interface and processes over 300k pictures per day to engage audiences.
When it comes to price, the web version of PicWish is free. Whereas, the price for its pro version starts at $0.008/credit (Promotion ongoing). The mobile version is available for free for 3 3-day trial and later mandates users to get its paid version that starts at $4.99/week (Promotion ongoing).
Let's look at its features.
Features of PicWish AI Photo Editor
Background remover: As mentioned earlier, background removal is one of the top-notch features of the PicWish app. This is stated because its AI-powered technology allows users to clear ugly or complicated backgrounds within a few seconds.

It promises precise cutout of the subject from the background by picking out solid color, or template, or even uploading pictures for the background.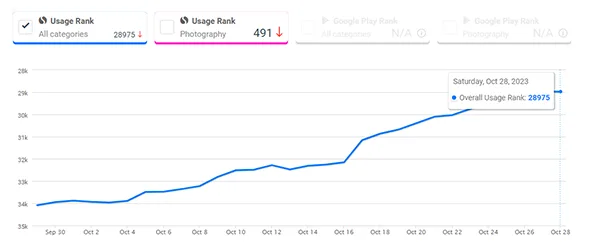 Statistics
The graph above demonstrates the PicWish application's overall usage rank for all categories.
Photo Enhancer: Do you have some blurry pictures? Its photo enhancer feature powered by AI enhancement algorithms produces crisp results. It can turn those blurred pictures into clear ones within a second. Further, you can amp up low-resolution pictures up to 4x the total pixel count.
Face Enhancement: It happens quite a while that you click yourself and the picture gets blurred. You might consider deleting that image most probably. But wait, the face enhancement feature provides you with an unblurred version in 3 seconds. This is possible by its AI face enhancement technology that retouches and fixes blurry faces.
AI Art Generator: The name itself sounds interesting, PicWish recently introduced its AI Art Generator feature that will let you satisfy your artistic goals. For all those creative heads, here you can create brilliant pieces of artwork.

Users can choose from different styles like Anime, Illustration, and many more. Despite this, it has preset sizes that would be suitable for the creation of avatars, posters, illustrations, and wallpapers.
Image Compressor: Most of you must come across a situation where you have to upload a picture without exceeding the permissible limit, but the dimensions are beyond the permissible limits. In that case, rather than searching for sites, PicWish comes along to save you from such circumstances.
Nonetheless, it employs the best AI compression algorithm to maximize photo compression for less distortion to achieve desirable results or file size balance.
Pros and Cons of the PicWish App
Pros and cons provide users with a comprehensive overview and let them decide whether it is advantageous or not. Here are some of them:
| | |
| --- | --- |
| Pros | Cons |
| Free to download | Includes in-app purchases |
| Multiple Features | App features are locked under a paid wall |
| Quick background removal | —————– |
| The AI is quite accurate | —————– |
| Super easy to use | —————– |
PicWish Use Cases
E-Commerce Enhancement: People from e-commerce industries can improve their product image by removing backgrounds or adding white backgrounds which is vital for a standardized look across listings.
Social Media Content: We all love uploading captivating images, posts, and stories to engage audiences. With PicWish, you can modify images or even ads to let them stand out from others.
Do You Know?
Over 100,000+ users worldwide use the PicWish app including e-commerce merchants, influencers, developers, and educational agencies to boost their productivity.
Digital Art Creation: You can use its offerings to create or achieve unique visuals for digital projects or art pieces.
File Conversion: Regardless of its effective editing options, you can also convert images into different formats. For instance, PNG, JPG, and WebP.
Document Processing: Data processing is something that is not served by many editing applications, but with PicWish, you are capable of extracting text from images or scanned documents for further processing and might be for digital storage.
User's Reviews
@icon1 said, "It's the most underrated background editor. I just love it. As a designer, I can say it saves me a lot of time. It's just amazing. Clean editing, no hustling even while using it. It does magic to the background".
@tom_faber stated, "Helps greatly in reliably upgrading picture quality. Great price/quality balance".
Morjena Vani said, "I have been removing backgrounds from products for E-commerce images. My eyes were as red as plum and irritating. With this, it reduces 30 minutes of work to just seconds".
By combining all of these, a majority of individuals find great pleasure in using it, whether they are a designer, editor, e-commerce operation executive, or any other role.
---