Suppose you are doing an urgent task like transferring messages from Android to iPhone. But, all of a sudden you realize your Internet connection to which you had linked your device is not working, what would you do?
Well, of course, try to fix it. Although it hardly takes more than 15-20 minutes and the right approaches can help you to save more time. Along with this, you must try to find the reason for, "Why won't my hotspot work?" to completely solve the problem.
So, let's quickly grab the best methods to resolve the hotspot connection troubles.
Also Read: How to Update Safari on Mac, iPad, and iPhone in 2023 [Explained]
What is a Mobile Hotspot & How Does It Function?
A mobile hotspot, commonly called a Portable Hotspot, allows users to connect to the internet with compatible devices. It's an alternative that easily allows users to stay connected, either when WiFi is very slow or is not working at all.
Besides this, it can be used when there are no WiFi routers around. Just like our mobile uses the cellular network to connect to the internet, this internet sharing point also utilizes it in the same manner.
Why My Phone Hotspot Is Not Connecting to Any Device?
Are you thinking why isn't my hotspot working? There are a few things that you need to check before looking for some appropriate solutions. Well, this actually happens occasionally and it doesn't sound very problematic, still, resolving this is a priority when you are stuck on something really urgent.
Look for the minor mistakes from your side that lead to this. It may leave you worried to find out the reasons for connections. But don't feel stressed and try scanning these checkpoints:
Your mobile internet is working properly.
You used the correct password.
The battery saving or power saving mode is disabled.
Have tried to toggle the tethering hotspot.
The location does support good internet connectivity.
These are the possible elements you must check to establish a seamless connection between your mobile's internet point and other devices. Now if you are still facing such problems try to deploy these precise methods to re-establish your internet sharing point's functional mode.
How to Fix the "Mobile Hotspot Not Working" Error?
If your hotspot is also not functioning as it should be instead of linking them with a source, apply these methods to fix it on iPhone, computer, and Android devices.
Ways to Fix the Hotspot Not Working on iPhone
In case your mobile's internet sharing point at your iPhone has stopped working leaving you in search of a quick and reliable solution. Inspect the possible causes to diagnose them precisely:
Your device is connected to nearby other internet connections but not to your own device.
Your iPhone's hotspot might get disabled after a while.
You are trying to connect to incompatible devices such as-
Samsung TV
Mac Air
MacBook Pro
iPhone XS, etc.
The internet point is connected but showing no Internet like when you connect your iPhone to an HP laptop.
It is not compatible when you connect iPhone 11 to Windows 10 PC.
You updated your iOS to 14/15/13, it won't allow you to connect more than one device at a time.
Therefore, if everything is on point and it is hotspot not working properly. Don't miss out on these methods to apply once.
Method 1: Try a Forced Restart on Your iPhone
The quickest and simplest way to fix such issues is quickly launching a forced restart for your iOS device. Here are the restart tips for various series.
For 8, 8+, X, and Later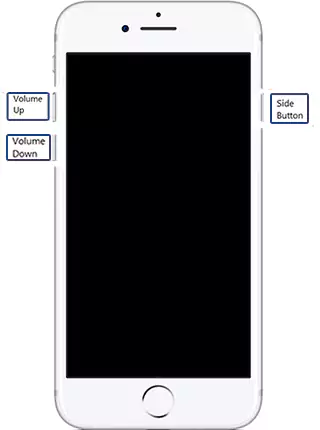 Press the Volume Up button then release it. Follow the same for the Volume Down button.
Now, press the side button for a few seconds till you find Apple's logo appearing on the screen.
For 7 & 7+
Press the Volume Down button with the "Wake up/Sleep" button.
Release them when Apple's logo appears on the screen.
For 6S, 6S+, & SE
Press the wake-up/sleep button along with the Home button.
Release them when you spot Apple's logo appearing on your screens.
Check if the problem still persists!
Method 2: Check Update for Carrier Settings
Installing updates regularly is necessary to diagnose the bugs of the previous version, utilize new features, and enhance the functional ability of your device. Check the steps to update your iPhone's carrier settings:
Navigate to "general" settings from the "Settings" interface.
Choose the "About" section and pick the "Update" option to upgrade it.
Once done, Restart your device to assess if the problem is resolved or not.
Method 3: Try Manually Connecting the Network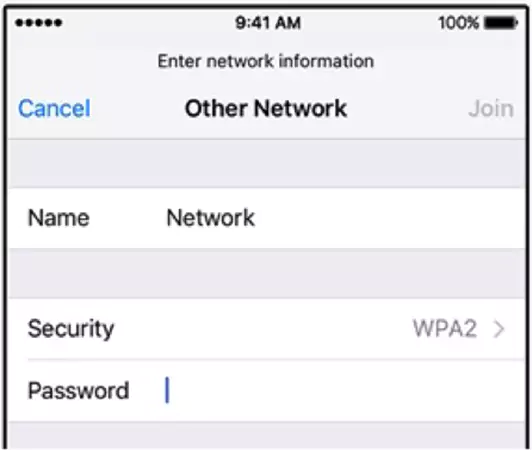 Proceed to implement these appropriate steps to manually connect your network.
Find the option stating"Manually connect to a wireless network" and tap on it.
Fill in the exact name.
Pick the "WPA2" option from the drop-down menu.
Enter the "Password" and click on the "Connect" option.
Evaluate whether the concerns have been resolved or not.
Method 4: Re-join your Network After Disabling Your Mac's WiFi
Turn off your Mac's wifi and turn it back on to fix such concerns. Here's a quick tip to do it:
Tap the WiFi icon to turn it Off and On it again in the same way.
Now select the Personal Hotspot Network Option from your iPhone to reconnect it.
Assess if the concern is fixed.
Method 5: Reset Network Preferences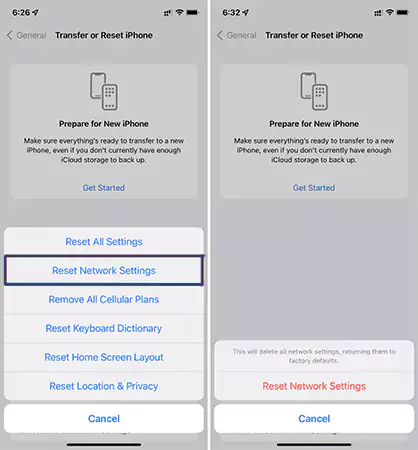 If your concerns still persist, try resetting your network preferences at least once. Follow along to fix them:
Jump to the main menu
Navigate to the "Reset" option from General Settings.
Now, click to "reset network settings."
Restart your iPhone according to the method explained above and find out if the problem is solved.
Also read: How to View Your iPhone Clipboard History?
Ways to Fix Hotspot Not Working on My Computer?
No doubt your mobile hotspot allows you to share your phone's internet with your other compatible devices. But sometimes establishing an internet connection among them becomes a challenge. It could happen for so many reasons such as
Non-updated network driver's software.
Connecting to the wrong network.
Improper WiFi bandwidth is chosen.
Network cluttering
Method 1: Update Wireless Network Driver on your Computer
Follow along to update your wireless network driver on your system with Windows 10:
From the "Start" button jump into the "Device Manager."
Choose to Expand the Network Adaptors
Go to the Wireless Device and Right-click on it. Pick the Update Driver Option.
Pick the "Search automatically for updating driver software" option.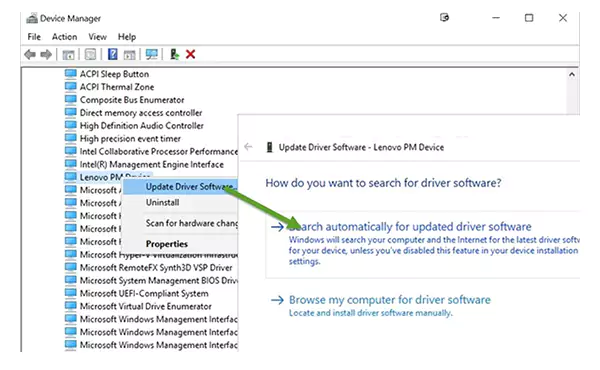 After updating the software try to reconnect.
Method 2: Change the WiFi Band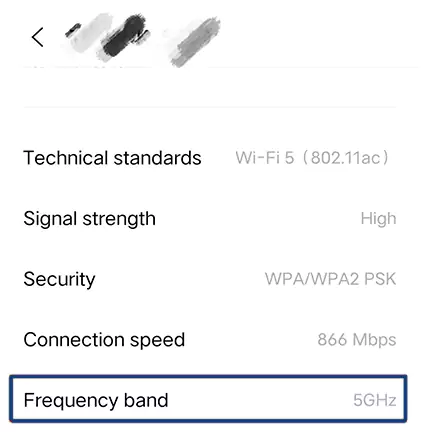 Along with Automatic Switching, another exciting feature introduced on Android is adjusting the frequency of the Signal. If you also have a new Android, you must know about it.
Yet if your Android is switched to a 5.0 GHz band you need to switch it to a 2.4 GHz bandwidth, as most devices support this. Execute the steps explained here to switch it back to the 2.4 GHz band.
Settings >> Network & Internet >> Hotspot & Tethering > > WiFi Hotspot >> Advanced > >AP Band > 2.4 GHz
Method 3: Try Using Bluetooth Tethering on Your Android
Owning an Android has many benefits as there are so many options for tethering. It can provide you with a great alternative to utilize this feature on your Android phone.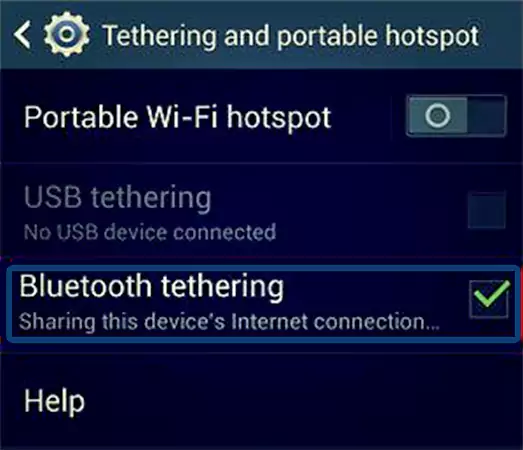 Jump to the "Settings" app of your phone.
Navigate to the option with "WiFi & Network" followed by the "Hotspot and Tethering" settings.
Tap to Activate the "Bluetooth Tethering" option.
Now try to connect to another device through this Bluetooth option. Once you are done with the above steps properly it becomes very easy.
You will observe that your other devices are now easily connected to the internet. This will assist you to finish your important tasks and then, fix the concerns by eliminating the cause.
Method 4: Reset the Network Settings on Your Android
Many times the hotspot becomes non-functional due to faulty network settings. Still, you can fix it quickly. In such a situation, when you are also unsure if this is the case, you must try to reset the network settings on your Android devices. Follow these steps to properly fix the network setting on your Android:
Jump to the "Settings" option on your phone.
Scroll down till you spot the "System" option.
Now, from there tap on the "Reset" option.
Click on the "Reset WiFi, Bluetooth, and hotspot" settings.
Now select your Reset Settings option.
Once done, reconfigure the hotspot.
You will notice it has started working again.
Method 5: Factory Reset Your Android
If your problem, "Why won't my hotspot work," hasn't got any outputs with the above methodologies, try this. However, it should be the last option to prefer when all the other method fails. It is because after trying multiple attempts if your hotspot hasn't resumed working means that the problem may be in the system of your mobile. Hence, to reset your phone's functioning to its factory setting status, follow the step-wise approach explained below: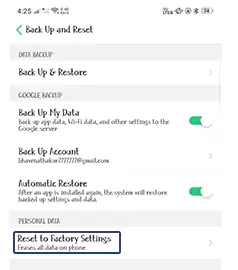 Go to the "settings" app on your phone.
Scroll till you find the "System" option.
Choose the "reset" option from there.
Now, select "Erase all data" to initiate the factory restart process.
Continue following the on-screen instructions.
Once it is done, it's time to personalize your phone from scratch.
Note: Please keep in mind that by executing this method to set your Android in its factory settings, you will lose your data. All the customized system settings, photos, documents, data, app data, and apps, will be deleted from the phone's memory. Therefore, make sure you create a backup before proceeding.
Ways to Fix Hotspot Not Working on Android Devices?
Are you searching to find out what to do if the hotspot won't connect to the devices? If yes, for that you need not be a tech expert to understand and fix it. You need to declutter your network connections on your Android device. Hop into the effective methods explained below.
Method 1: Fix Mobile Data By Toggling Airplane Mode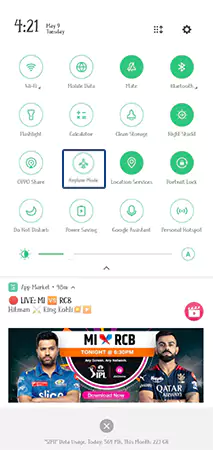 You may face troubles with your urgent tasks with an improper network connection. The disabled wireless transmission functions obstruct Bluetooth, Cellular Radio, and WiFi, hence restarting your network connections may solve your issues. Implement the instructions provided here:
Swipe down to see the Notification bar.
Tap the Airplane Mode & wait 30 seconds.
Disable it again.
Else, you can follow another approach:
From; Settings >> Navigate to Network & Internet settings >> Advanced>> Tap Airplane Mode.
Again wait for 30 seconds before disabling it.
Method 2: Stabilize Your Mobile's Internet Connection
Thinking, Why isn't my hotspot working, or are your devices unable to establish secure connectivity? Your device's unstable connections may be the culprit. Switch on your mobile's connection and search for anything on Google.
Wait for a few seconds to see the evidence, if it's a sign of a bad connection. In case you identify bad connectivity issues try another method to solve it.
Go to your Control Data Usage interface and increase the data usage limit.
Or hop into-
Settings>> Navigate to Network & Internet >> Mobile Network >> App Data Usage >> click Settings Icon >> Set New Data Limit
Check if the connection is re-established.
Method 3: Disable Your VPN
VPN in itself might be a problem here. Do inspect your VPN and disable it.
But Why? Well, using a VPN (Virtual Private Network) is a smart idea to maintain your privacy online. But the method of connecting through various services somehow decreases the overall speed of the internet. Thus, they may lead to internet connectivity issues.
From Your Settings app >> Network and Internet Settings >>Advanced >> VPN >> Disable VPN
Execute the above process and disable your VPN and enjoy seamless hotspot connectivity across all of your compatible devices.
Method 4: Disable Battery Saving and Data Saving Mode
Do you know that the battery saving mode saves the battery of your device? It limits certain non-essential functions on your device. Hence, it may also cause a decrease in the internet's speed which may result in improper connectivity of your device.
Hop into;
Settings >> Find Battery >> Battery Saver>> Turn Off Now
A similar pattern is followed when you have enabled your data-saving mode. It also reduces the data sending and receiving through several applications of your mobile. Thereby interfering with your connections as well. Execute these steps to disable your data saving mode on your mobile.
Jump to; Settings >> Network & Internet >> Data saver >> Disable Use Data Saver
Method 5: Disable Automatic Hotspot Switching
You must be familiar with the new feature of Automatic hotspot switching. Enabling this feature will switch it off within a few minutes if no devices are connected to it. Hence, in case you leave your device idle and the phone enters into sleep mode it disconnects it. Implement these steps to disable the automatic switching.
From; Settings >> Network and Internet settings >> Hotspot and tethering>> WiFi Hotspot >> Advanced >> Turn off Hotspot Automatically
What to do When My Hotspot is Connected But No Internet on Android?
There are several instances when our Android shows an established connection with the respective device, but there is no internet connectivity. In such cases, try implementing these methods:
Switch off your Android and start it again.
Clear the system cache.
Remove the password of your hotspot.
Try changing the bandwidth
Update the correct date and time on your Android.
Reset Your Non-Functional Mobile Hotspot Into a Functional One!
Many can relate to the fact that there are so many people who rely on their mobile hotspots to connect their computers. But a stuck hotspot can cause complications in your ongoing tasks, whether in your personal life or a professional workspace. Fortunately, these tips will help you to eliminate that hurdle from your pathway and seamlessly continue with your ongoing tasks.
Congrats, you made it to the end and good luck!
Sources:
Also Read: Significant Things You Must Know About TFW On iPhone