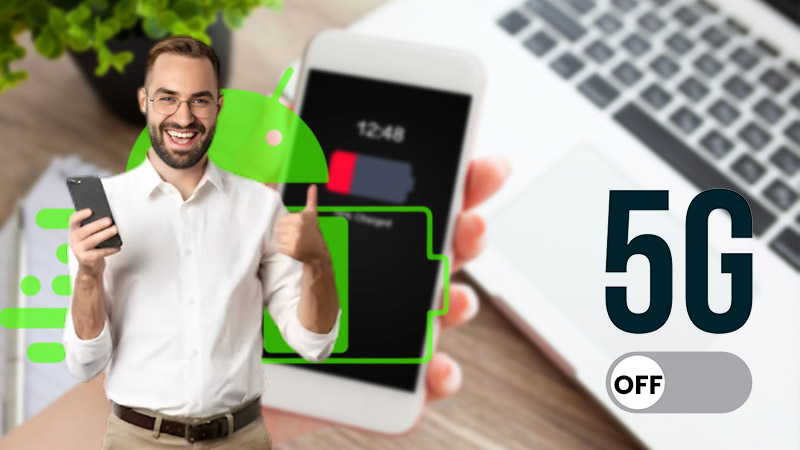 Is your mobile battery draining too fast? Turn off 5G on your Android device to save battery!
Kudos to 5G, because of which around 1.3 million people in the US were able to witness thundering internet speeds in 2019, and the number of 5G subscribers is forecasted to reach 168 million by 2024. But as a result of this fast internet speed, people experienced quick battery drains. And you know what, battery draining isn't the only problem with 5G 🤷‍♀️.
The unfortunate part about this high-speed network is that it is available in limited places, as the U.S. is underway establishing the 5G network, and the 5G towers are yet to be installed in all the states. You won't necessarily get this superfast network everywhere in the US, so it's best to turn it off to prevent your Android phone from wasting battery searching for a nonexistent 5G connection.
Today's article will exclusively focus on how to turn 5G off on Android, so take out your phone 📱 and let's get started!
Can You Turn Off 5G?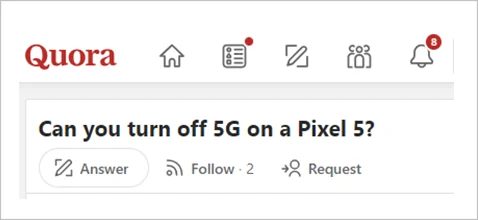 Similar to the above user, do you also wonder, 'Can I turn off 5G or how to disable 5G Android?' Worry not because you can turn off 5G on your Android devices by making a few adjustments in your network settings.
I was amazed to find out that there are many people who want to get rid of 5G and turn it off. The primary reason behind this is excessive battery draining caused by its usage. The issue of too much battery consumption is similar in both Android and iPhone. There was a time when I was sharing a screen on FaceTime and the notification of low battery pop-up on my screen.
I realized that with a 5G network, my phone is eating up more battery than usual. At first, I thought maybe my iPhone uses a lot of battery, but the same thing happened with my Android phone as well, and that's when I started searching for how to turn 5G off on Android. If you are facing the same issue and want to know how to disable 5G on Android, read the subsequent section carefully.
How to Turn 5G Off on Android?
5G installation is still underway, which is why you may need to switch to 4G LTE networks, especially when you are traveling and want to save your phone's battery. If you want to learn how to turn 5G off on Android, you need to understand that the method of turning off 5G in Android phones differs according to the device. In the upcoming sections, I will comprehensively discuss all the different methods one-by-one.
On Google Pixel Phone
The following instructions will guide you to turn off 5G on your Google Pixel phone: –
First, move to Settings and tap on the Network and Internet options.
Tap on the SIMs option.
Click on the Preferred Network Type option.
Change the preferred network type from 5G to 4G or 3G.
That's it now the 5G on your Google Pixel phone will be turned off.
On Samsung Galaxy S21, Galaxy S22, and Galaxy S23
Now let's discuss the Samsung Galaxy!
Note – The method to turn off 5G in Samsung Galaxy S21, S22, S23, FE series, A-series, and Z-series is the same. So the steps mentioned below will help you turn off 5G in almost all the major Samsung phones.
Follow the below steps to know how to turn off 5G on Samsung Galaxy S21, Galaxy S22, and Galaxy S23: –
Take your Samsung phone and navigate to Settings.
Tap on the Connections and hit the Mobile Networks option.
Then click on the Network Mode. Here you will find different network modes.
Choose LTE/3G/2G (auto connect) from the given menu.
Selecting LTE/3G/2G will limit the connectivity to 4G LTE or lower networks and disable the 5G connectivity on your Samsung Galaxy S21, Galaxy S22, and Galaxy S23.
How to Automatically Turn 5G On or Off on Your Android Device?
Note: The auto turn-off option is mainly available on Samsung phones, and the steps to turn off 5G on other Android devices may differ. Even some Android phones don't have the option of automatically turning off 5G, so you should check whether your device has this automatic turning-off feature or not.
Apart from this, Samsung gives you the option to automate when you want to turn 5G on or off. The users have the option to set a trigger to automatically switch from 5G to LTE.
Here's how you can automatically turn 5G on or off on your Samsung device:
Move to the settings and click on the Modes and Routines option.
Now switch to the routines tab and hit the (+) icon on the top.
Choose the event or trigger, after which the 5G will automatically on or off in your phone. The event can be traveling, sleeping, or a particular time of day.
Click on the 'Add what this routine will do' and hit the Connections option.
Then click on the Network Mode and select 5G or LTE connectivity.
With the help of the Samsung Modes and Routines app, you can create multiple routines similar to this to toggle on 5G connectivity on your device automatically. To advance the discussion, let's see why you need to turn off 5G on your Android phones in the next section.
Why Do You Need to Turn Off 5G on Your Android Device?
The 5G is perfectly entrenched in certain parts of the country, mainly metropolis, so as long as you live in a metropolitan, it's completely okay to leave the 5G auto setting enabled. Vice versa, if your area doesn't seem to be progressing towards 5G till now, it's best to turn 5G off to extend your battery life.
Undoubtedly, a high internet speed can help you quickly complete a lot of tasks like transferring text messages from Android to iPhone, which otherwise would have taken a lot of time. But using fast internet speed has its adversities, and battery draining is one among them.
So if your locality doesn't have a 5G, it's best to turn it off in the settings, especially when you watch TikTok without an account or app, because streaming videos on TikTok consumes a lot of battery.
This write-up about how to turn 5g off on Android helped you tackle the battery crisis caused due to this high-speed internet setting. Moving to the end, let's take a quick glance at frequently asked questions.
Frequently Asked Questions
Ans: Yes, you can disable 5G on your Samsung device, for that, move to settings >> connections >> scroll and click on the mobile network options >> network mode and select the network option.  
Ans: The speed of LTE is around 100Mbps, while 5G can deliver speeds up to 1Gbps, so yes, 5G is better than LTE, but LTE has widespread coverage, and the superior one is currently in the initial stage of deployment.
Ans: Yes, if your area doesn't have 5G towers and connectivity, it's best to turn it off because keeping it on will unnecessarily drain your battery.
Sources
Statista
Also Read: