The "Find My" app is a fantastic feature of Apple that allows users to navigate to their location or find their personal belongings. Besides this, "Share My Location" in "Find My" can help you stay informed about each other's whereabouts through tracking notifications.
However, sometimes some errors are also encountered, such as, location not found or location not available. These might sound confusing to many, but some consider both of them the same. But what does no location found mean? How can we differentiate between the two?
In this article, you will learn the difference between no location found vs location not available iPhone, methods to fix, etc., and resolve the confusion revolving around them.
Difference Between No Location Found vs. No Location Available
Many users often ask about what no location found vs location not available actually means. Well, the significant differences between the no location found vs no location available are as follows:
| | | |
| --- | --- | --- |
| | No Location Found | Location Not Available |
| Meaning | Occurs when the device has lost its service or is unable to connect to a wireless network. | Turn true when GPS is trying to fetch the location, but has failed. |
| When does it appear? | When the whereabouts of friends are hidden but visible, to them. | Unable to fetch the location because of the absence of the Internet or Find My app is turned off. |
| Internet Connection | Displayed to the user with this error in the absence of a stable internet connection due to which location services can't be utilized. | The location fails to update even if Find My is turned on. |
| Location Services | The location services are disabled everywhere. | The location services are not available in that particular area. |
These were the all-important differences between no location found vs no location available!
What Does No Location Found Mean?
It is understood that both errors do occur when there is an issue navigating to a location. But what does it mean when it particularly says no location found vs location not available? Well, it means that the device is unable to locate them. However, it doesn't claim that the user on the other side has stopped sharing it, in fact, there are other reasons for that.
These errors can also occur if their device is offline, or they have turned off their location-sharing services, due to which "Find My" is unable to find them. Besides this, if airplane mode is enabled on your device as well, then this error also gets displayed on your screens.
In addition to this, if you doubt whether they have stopped sharing their location or not, try these tricks to verify:-
If they have stopped sharing, and you are continuing to share your location, jump to "Find My" and you will notice that they are still able to get your location.
When you open "Find My," you won't be able to find either their name or device there, in case you have stopped sharing.
However, when the other user hasn't stopped sharing their location and just turned off their location services, you will see this error. You can ask them to ensure that their location services are on.
In a situation where the other user's device is switched off or offline, you will get this error.
Besides these, if Airplane Mode is turned on in your device, then also cannot get any updates except this error.
On the other hand, if they have turned on Airplane Mode, you still be able to see their last location.
However, before reaching any conclusion, make sure that you communicate with them for better clarity!
How to Fix the Location Not Found Error?
There is always a conflict between no location found vs location not available. Although the first one is associated with restricted ability because of internet unavailability, what provokes it? Well, the major cause of the occurrence of this error is network congestion. The calling, texting, and internet access features are directly affected if network services are unavailable.
The TFW network is one of the popular networks that can help you navigate to a location with utmost precision. You should know what TFW network means on iPhone, and may decide to switch to this network if needed to avoid such navigation-related troubles.
Now, let's implement a few methods to fix the error on both devices.
Turn off Airplane Mode if it is enabled on any of the devices.
Follow:- Control Center >> Look for Tap Airplane Icon >> Turn Off
Make sure the devices have a seamless internet connection.
Power the device in case it is running out of battery.
Cross-check the date and time settings.
Follow:- Settings>> General >> Navigate to Date & Time
Turn On the location services if it has been turned off accidentally.
Follow:- Settings >> Privacy & Security >> Location Services >> Turn On
Make sure both devices are online to navigate without hassles.
Go for an OS update, any of the devices is running on an older OS.
🏓 Note:- Try to communicate with the user on the other side and cross-check whether they have signed out from their iCloud. If yes, ask them to do the iCloud sign-in to avoid the error on your device, as the GPS won't be able to update the new position of the device.
In case the above tricks don't work for you, reboot your device!
What Does Location Not Available Mean?
The no location found meaning vs location not available sounds a bit the same in their names. But, here is the name itself explains the location not available meaning. It indicates that your device is not able to find the location of the other device because they have stopped sharing.
It is different from what does no location found mean because, in that case, the user on the other side is still sharing the location. However, the information got halted due to network issues, software glitches, technical problems, or bugs (in rare cases).
Besides this, if you are getting such a pop-up on iMessage, the possible reasons could be;
Absence of Wi-Fi or cellular connection.
Location service is inactive, either from you or the other side.
Any one user is not using an Apple device.
In addition to this, if you are both using iOS 13 or later models, you will not see the "location not available message," instead, you will have the "location not found" error.
How to Fix the Location Not Available Error?
There could be various reasons for the occurrence of this error, but it is also easy to fix it.
From your Device:-
Here are some methods that you can apply to fix the error on your own device.
Relaunch the "Find My"
Relaunching "Find My" can resolve your issues, and you will be able to resume your activity. Follow the instructions explained below to do it.
Invoke app switcher >> Locate Find My >> Close it >> Home Screen >> Relaunch It
Restart your device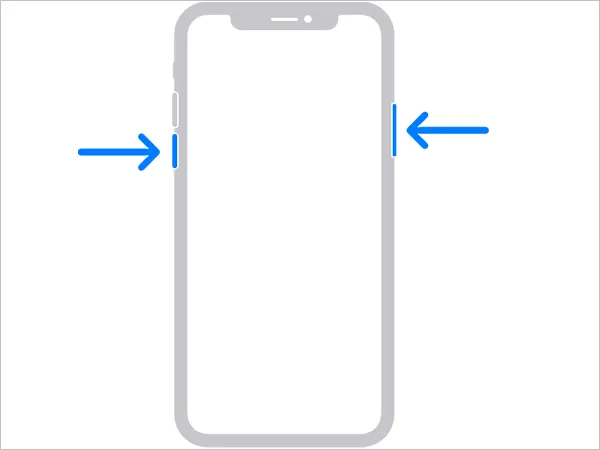 Restarting your device can fix the glitches automatically, and you can continue your navigation. Follow these steps to get it done.
Go to Settings >> General Settings >> Shut Down
The screen goes blank with this, you need to wait until Apple's logo reappears again…….
Update the iOS 
Cross-check if your device is updated with its iOS or not, in case it's not updated follow the steps explained below to get it done.
Go to Settings >> General >> Software Update >>Install Update
Disable Low Power Mode 
Enabled Power saving mode often pauses the activities which might consume more battery. Hence, in case your device is also running with a low power mode enabled feature, it can lead to problems in navigation. Follow these steps to disable it.
Go to Settings >> battery >> Toggle the Low power mode switch to turn it off
You can continue your GPS-positioning activities once it is done.
Turn On the GPS Services 
If your device's services are not turned on, it imitates location services are also inactive as the device is in Airplane mode.
From Other User's Device:-
Here are a few ways to resolve the concern by applying them on the device of the user at the other end.
Toggle On and Off the Share My Location option.
Try to reshare the location.
From messages: Reshare the location again; Go to Messages >> Tap on the person's name >> Reshare the location.
From Find My: From people's tab >> Hit Stop Sharing my Location. Now, Go to People's Tab again >> Add your location.
Resolve Location Issues from Find My:-
i.) For Location Not Available
Check the Apple System Status Page:- From there, you can verify if the services are appropriately working or not.
Go to System Settings >> Navigate to Find My >> Check its color.
If Red or Yellow, it's not working.
If Green, it's working.
ii.) For Location Not Found
You can fix this error from Find My by ensuring these things are explained below:-
Airplane Mode is disabled.
Stable internet connection
Enough power to work efficiently.
🏓 Note: If all the Fixes explained above don't provide you with satisfactory results or don't work for your device, it's time to look for some sort of professional assistance. Communicate your concerns to support.apple.com or connect on twitter.com/apple.
A Quick Wrap
Well, by now, the differences between location not found vs. location not available must be clear. As they both are location-related errors, it is important first to cross-check the location-sharing features and the elements associated with them to ensure seamless navigation.
However, you can also locate the right reason behind the occurrence of such issues using the points discussed. Moreover, in case things still don't get back to normal, connect to Apple support and get expert assistance to resolve the issues quickly.
I hope you loved reading it and got a reliable solution!
Read Next: How to Clear Cookies on iPhone or iPad: A Step-by-Step Guide
FAQs
Ans: Well, if you own an iPhone 15 or above, you can definitely find the position of your device via the "Find My Network" feature on the "Find My Friends" app.
Ans: It simply means that the individual has stopped sharing by turning off the location services. 
Ans: It may be true. But, there are instances when this error is displayed due to software glitches or in the absence of internet connectivity. 
Ans: You can get this done by turning on "Airplane Mode". This disconnects your connectivity with the network; hence, freeze your location because it won't get updated.  
Sources: