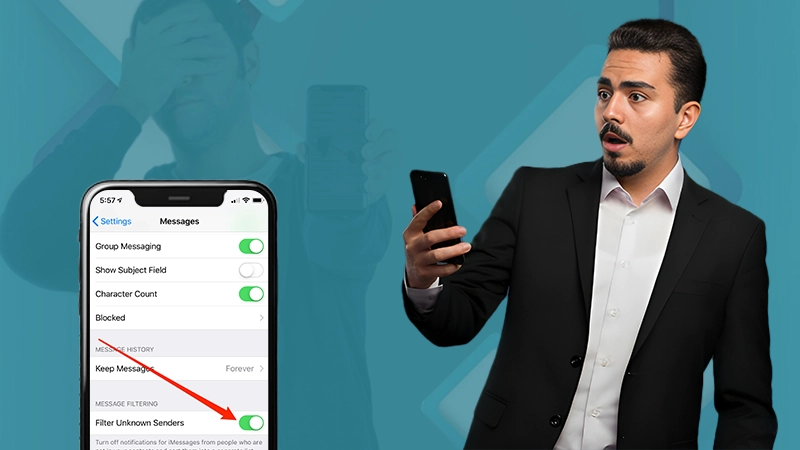 It's so convenient to just block anyone you want on your iPhone and never hear from them again, just like the tracking notification on your iPhone. These people may include telemarketers, spam calls, or even your troublesome ex-partner.
Additionally, you can filter messages from unknown senders to prevent spam and notifications from appearing repeatedly.
However, sometimes curiosity can take over, and you may want to see the text messages from those blocked people. So, can you see blocked messages on your iPhone?
In this article, we will discuss how to view blocked messages on iPhone through a step-by-step guide.
Can You See Blocked Messages on iPhone?
To be clear, there's no way to view the blocked messages iPhone. When you block a contact, your iPhone stops all communication with that person. You will no longer receive messages or calls from the same phone number.
If you want to know how to see messages from blocked numbers on your iPhone, things get a little complicated. The good thing is that blocking a contact doesn't delete the chat history with the person.
You can always go back and read the messages again. Even if you delete those messages, you can rely on your iCloud backup to get those messages back. However, you will not receive any further messages from the same person.
How to View Blocked Messages on iPhone?
It is common knowledge that you cannot receive any messages from the contacts you have blocked. It will simply not be delivered from their end, and you will not receive any messages.
As we have mentioned before, there's no way to view the blocked iPhone messages. However, if you accidentally delete messages from a blocked account and want them restored, we can assist you.
iCloud backup can help you in more ways than you can think, login into iCloud for Data backup, sync, data recovery, and more.
The steps to get back your deleted messages on iPhone using iCloud backup are as easy as turning off the silent mode. Read more to know how to recover your message.
Open Settings on your iPhone, then go to Apple ID > iCloud
Next, click on the Messages
Next, toggle off the Sync this iPhone option
On the pop-up prompt, tap on Disable and Download Messages
And now we are done! All the blocked messages on your iPhone will now be downloaded to your iPhone.
How to Recover Deleted Messages with iTunes Backup?
iTunes backup is another way to restore deleted messages in a few simple clicks. When you sync your iPhone to iTunes, it automatically creates a backup of your data, allowing for easy data recovery.
Follow these easy steps to recover deleted messages through iTunes:
The first step is to connect your iPhone to a computer via a suitable cable.
Launch iTunes on your computer. 
Click on the iPhone icon at the top of the screen, then select Summary from the menu.
Choose the option to back up your data on your computer and then click on Restore.
All deleted messages will now be successfully restored. It is important to note, however, that this method will erase all of your existing data on the iPhone.
Also Read: Learn How to Invert a Picture on iPhone Professionally
How to Unblock Contacts on iPhone? 
If you have changed your mind and want to continue receiving messages from the person you blocked. Then, instead of searching for how to check blocked messages on iPhone, you can simply unblock them.
You will still be unable to read the messages you received while the person was blocked, but once you unblock them, you'll be able to receive new messages.
In case you don't know how to unblock a contact from your iPhone, try the following methods:
There are two ways to unblock a contact on your iPhone. The first is to go to Settings > Phone > Call Blocking and Identification. Then, type or select the target number and press the unblock button.
The second method for unblocking contacts on your iPhone is to open Contacts, select the target contact, scroll down, and select the "Unblock this caller" option.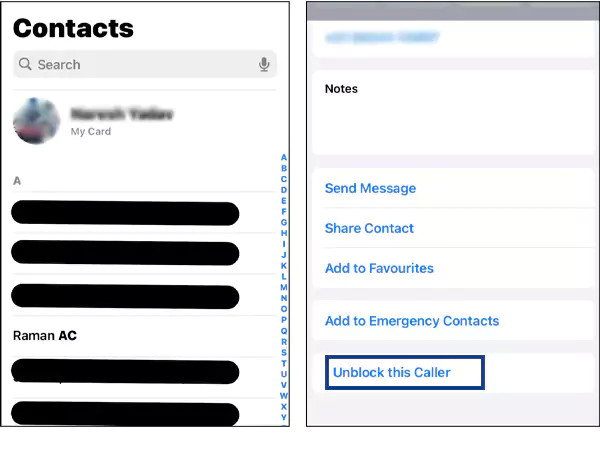 Also read: How Accurate is Find My iPhone?
Steps to Filter the Messages From Unknown Senders
We understand how annoying it can be to receive spam messages from commercial contacts, unknown senders, and other businesses.
At times, you might want to block them, but you don't want to miss out on the amazing offers and upcoming deals on platforms like Amazon. In this case, you can simply move them to a new tab in the messaging app.
Follow the steps to turn on this filter on iMessages:
Go to Settings and tap on Messages.
Toggle on the Filter Unknown Senders option.
That was it! You will notice that your messages have been divided into two categories, Contacts & SMS and Unknown Senders.
Conclusion 
In conclusion, there's no way to know how to view blocked messages on iPhone. Once you block a person or a number, you can't receive any texts from them, so there's no way to read the messages.
Instead, if you want to continue receiving messages from the person, you can unblock the contact. If you want, you can also recover the deleted message from the blocked contact. Hope this article answers all your questions about how to read blocked messages on your iPhone.
Also Read: 10 Noteworthy Methods to Fix Message Send Failure iPhone
FAQs
Ans: You can not receive any message from the blocked contact, so there's no way to see the blocked messages on iPhone 13.
Ans:Yes, you can block any messenger you want on your phone. Just go to contacts, search for the target person, and click on Block caller, and the person will no longer be able to send you any messages.
Ans: If someone you have blocked is still sending you texts, it is likely because they have another phone number. A second contact can assist them in bypassing the block.
Ans: You cannot see blocked messages on your iPhone. If you're curious about the messages from the blocked contacts you can unblock them to satisfy your curiosity.
Ans: To see the blocked voicemails on iPhone, open the Phone app > tap on voicemail at the bottom > scroll down and select locked Messages.
Sources –