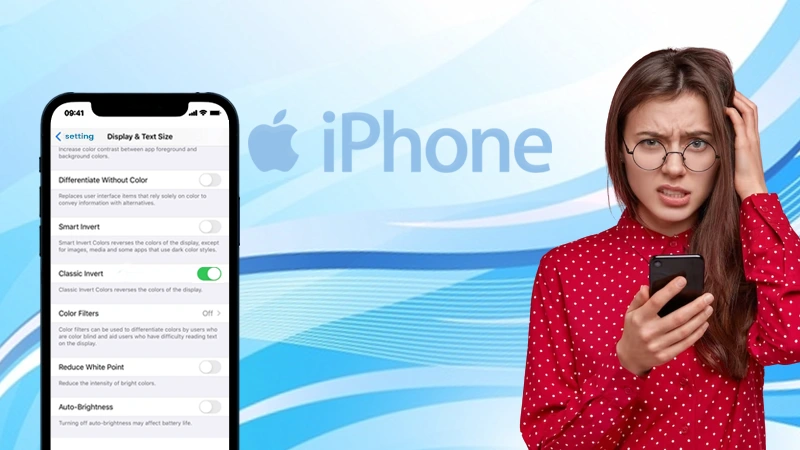 One of the best inventions in history has been the camera. It's amazing how you can have the stillness of a moment and keep it forever. Things only advanced from there on, and now there are much more features in the camera of an iPhone than you can even think about. One of those incredible and important features is the invert option.
This feature completely changes the vibe of the image. Just like the name, it inverts the colors of the image, swapping the light shades with dark and the dark shades with light.
For example, the yellow hues become purple or blue, and green becomes red. In this article, we will take you through the easiest ways how to invert photo on iPhone seamlessly.
Why You May Need To Invert a Photo?
Inverted photos look rather scary to some people, but you're here, which means you know the artistic aspect of this filter. It'll help you better understand how colors and hues work, also, inverting an image shows you the details that you were not able to see before.
Helps people with visual impairments – People with visual impairments like photophobia (sensitivity to light) and other impairments should definitely learn how to invert photos on iPhone since it can prove to be very useful. This filter reduces the brightness and makes it easier to distinguish between hues and shades.
Inverted Art – With an inverted image, you can properly balance the overexposed and the underexposed areas and make the pictures look professional. Additionally, this filter gives you an artistic outlook on the image. If you want to look at the world differently and gather some inspiration, then look through the eyes of this filter! Inverted art is gaining too much popularity nowadays, it's originally made with inverted colors for example, black instead of white and white instead of black. So that when the colors of the picture are inverted they take their natural place, and the picture turns out to be absolutely gorgeous.
Use the Build-in Feature on iPhone
This feature called invert photo that the iPhone offers is also a built-in feature. That means you don't have to install any app or stall any site online to achieve this beautiful effect! Although it's not a target filter, this means that this will just flip your iPhone screen to inverted color mode and not just the image. This way, you can view all the content of your phone in inverted colors as well as the target picture.
So, let's learn how to invert a photo on iPhone.
Steps on How to Invert Colors on a Picture on iPhone
Open your iPhone and go to settings. Now go to Accessibility > Display & Text Size
Scroll down and turn on the classic invert button. Now your entire screen will be inverted, along with your photos.
Use Third Party and Online Apps
If you don't want to invert the screen of your phone completely, then use third party or online apps for this purpose. They are seamless and too easy to operate!
These apps can make your photo editing process so simple and effective that you'll be hooked! Let's look at how to invert color iPhone photo using a third-party app.
Picsart 
Picsart is one of the most effective tools for editing photos and videos; from book covers to resumes, you can design anything with this, and inverting color iPhone photos is not at all a big deal either. It's relatively easy to be honest. So let's dive headfirst and look at how to invert photo on iPhone.
Open the Picsart mobile app on your iPhone and click on the pink plus sign in the lower middle of the screen to get started.
Now your photo gallery will open, Select the picture you want to invert
Now select the fx tool > colors > negative
And you're done! You'll have your beautifully crafted inverted image in front of you.
Photoshop Express App 
Photo Express is another app that you'll have to download from the Apple Store. This app is devoted to editing the pic to your taste with lots of features and minimum effort. It's a professional app that works better if you pay for the prime features, but don't worry! You don't have to pay a single penny to invert colors iPhone photo.
Download the Photoshop Express app on your iPhone and sign in.
Select the image that you want to edit and click on the Looks button
Swipe left and click on the invert filter.
There you have it! Your picture is now inverted!
Lightroom
As the name suggests, Lightroom is mainly popular for the amazing filters it offers. From Black and white to Golden Hour, you'll find every kind of filter in this app; though it's limited in the free version.But, what we are searching for is absolutely free! That's right, the inverted filter is completely free! Just a few steps, and your image will be beautifully inverted just as you intend it to be.
But the free version may contain a lot of pop-up ads, so you'll need to stop the pop-up ads on your iPhone in order to work seamlessly. Let's look at those steps and know how to invert a picture on iPhone with Lightroom.
Download the Lightroom app on your iPhone and sign in.
Select the image that you like from the bottom left corner and click on Edits in the bottom center.
Now click on Light, and you'll see some adjustments.
Scroll down and select the curve.
Do you see the line? Now drag the bottom left point to the top left and the top right point to the bottom right.
Click on save, and here you have your picture!
Conclusion
The inverted photo iPhone feature is totally underrated but extremely important. Now, the inverted filter that we are talking about here is not the one that flips the photo from side to side, it is the one that inverts the colors of a picture completely. The filter will convert the hues of your picture to more whites, blacks, and blues.
The inverted filter is really useful for visually impaired people, as they are sensitive to light. This feature softens the bright light, which makes it easier for people with sensitivity impairments to look at those images. Also, these negatives of an image will really attract the attention of the artist in you. We hope the article has answered all your questions, and now you know how to invert a picture on iPhone professionally, it's honestly easier than you think! Now, you can convert these beautifully curated inverted pictures iPhone offers into a PDF format to effortlessly share them and upload them anywhere you want.
FAQ
Ans: Making a negative image is really easy and takes merely a few minutes. You can either create the inverted picture with the built-in app on your iPhone, or you can download a few other photo editing apps like Picsart, Photoshop Express, and Adobe.
Ans: You can either use the photo editing apps on your iPhone or use the iPhone built-in feature, although it won't affect the target area, instead, it'll invert the colors of your whole screen. The following steps will help you to invert colors iPhone photo.
Open the iPhone settings > Now go to Accessibility > Display & Text Size. Scroll down and turn on the classic invert button and here you have your screen inverted!
Ans: Download Picsart and create an account. Now add the picture you want to invert and click on fx tool > colors > negative. Here you have your Negative/ inverted photo ready!
Sources