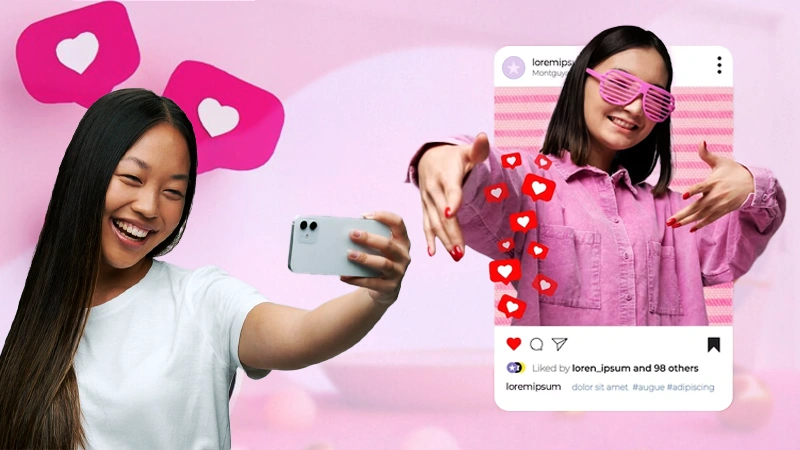 Transform your Instagram profile and captivate your audience with stunning visuals that have innovation and creativity. Small businesses and entrepreneurs now have access to a game-changing market that presents their brand in the best possible light. Images are your social media face and voice, telling the story of your brand to your viewers.
Engaging, high-quality, and responsive photographs are incredibly effective in amplifying the voice of your brand, attracting a mass of followers to your profile, and inciting engagement. Likes and Comments are relevant to survive in the competitive social media world where your popularity is decided by these metrics.
Even if you are a budding photographer, a normal Instagrammer, or a business, adding photographs that are appreciated should be your first priority. Capturing images that can get massive likes needs technical skills, creative ability, and an understanding of your audience's preferences.
Besides that, it's most valuable to know Instagram algorithms and community guidelines before adding any picture. In this guide, we will shed light on some effective tips to capture high-quality images that can take your social media engagement to a higher level.
Know Your Audience
Adding generic photos to your profile without knowing your viewers is not worthy. It's necessary to understand your target audience's preferences to capture likes and comments. Research and analyze what their content type is, and what kind of photos and themes resonate with them.
Understanding your target market becomes even more significant if you are a business brand. Tailor your content according to your niche and user's tastes and priorities. When your target market gets what they want the chances of showing appreciation also rise.
Use Natural Light
Lighting is the most significant aspect of a good photo, and natural light serves your purpose effectively. Try clicking exquisite pictures for your feed in sunlight, especially during the golden hour, which enhances the quality and visuals, making it loved by millions.
Because natural light is the best source, no flash or artificial light should be used when clicking images, as it might flatten your image and distract viewers from the main subject. A brand can also utilize the presence of sunlight for its business brand shoots in outdoor locations.
The graph below shows how much businesses invest and profit by promoting their products and services on Instagram. It is predicted to be a valuable marketing asset and therefore providing followers with high-quality photographs is a must.
Check Your Camera Quality
Generally, influencers and brands nowadays use smartphones rather than cameras to click pictures, but they forget to update the camera settings. To get a high-quality photo, you have to change and update camera settings as per your requirements.
The most significant ones are turning the HDR off, checking the photo mode, and adjusting brightness. Pay close attention to the leading lines and framing to make pictures visually appealing and attractive. Experiment with angles to get a perfect photo, as sometimes you can get a more appealing picture from an angle you didn't expect.
Remember that, for new brands, even after using top strategies, getting the desired engagement is difficult. Your profile needs the initial boost to reach a larger audience organically. To get that, you can buy Instagram likes from credible websites in the market that sell authentic them from real profiles.
Use the Rule of Thirds and White Space
The rule of thirds and white space are the most effective strategies for capturing balanced photographs. Rule of thirds is basically a composition guide that divides your frame into a 3×3 grid, which in total gives a nine-grid part. It is used to place the key element effectively at the intersection.
White space is an empty and uncluttered area around the main subject to give enough breathing room to the key element of the visual. It helps viewers to focus on the main subject and reduces the chances of distractions due to an overexposed background.
It also encourages minimalism and simplicity, which gives your image a sense of calmness. These 2 strategies give you a perfect, visually attractive, and compositionally balanced photograph. A high-quality visual has depth and clarity showcasing the theme or the brand correctly, therefore, increasing Instagram followers.
Experiment with Depth of Field
Creating depth of field is a great plan to achieve a beautiful background blur that can level up your Instagram game. To enhance the main content, keeping the highlight as the main focus and blurring the rest of the image is pivotal.
To achieve this, it's necessary to understand and control the aperture, which is the opening through which the light passes. A wide aperture means a shallow depth of field, which is the main subject in the sharp focus.
Some amazing pictures that will pique the interest of your social media users can be captured with a narrow aperture, enabling deep depth of field. This results in effective coverage of both the subject and the background with a wide focus.
EXPERT ADVICE
It is better to choose a 1080p photo. The Instagram app will cut your image into a square by default, but you can customize it to fit the entire width or height.
Proper Editing
Editing enhances and refines the quality of the images you capture. They can be dull, which needs the desired brightness, exposure, contrast, saturation, hue, highlights, etc. and editing is the medium to convert boring photos into attractive ones.
At present, software tools like Snapseed, lightroom, photoshop, VSCO, etc., can be easily used to edit visuals. Adjust the exposure as per your choice and enhance the overall look of the photograph. Besides that, remember to adjust the colors to get your photograph in the desired tone.
The vibrance and balance are valuable in this stage, which can make color channels appealing. However, editing is much more than that; it includes clarity, sharpening, noise reduction, lens correction, batch editing, and final retouching to get the most appealing look.
Conclusion
High-quality images can be a game changer for you to take your social media presence to the next level. By using these tips and combining your creativity, you can click photographs that can attract the general public to your profile and increase engagement.
Remember that the viewers prefer quality over quantity, and people who add high-quality images get more responses from the Instagram audience. Stay updated with the latest trends in the photography world to perform well in this competitive market where everyone wants to get ahead of their competition.
However, it's relevant to keep practicing and experimenting with the camera settings, angles, composition, lighting, and exposure to become a pro at clicking pictures.
---