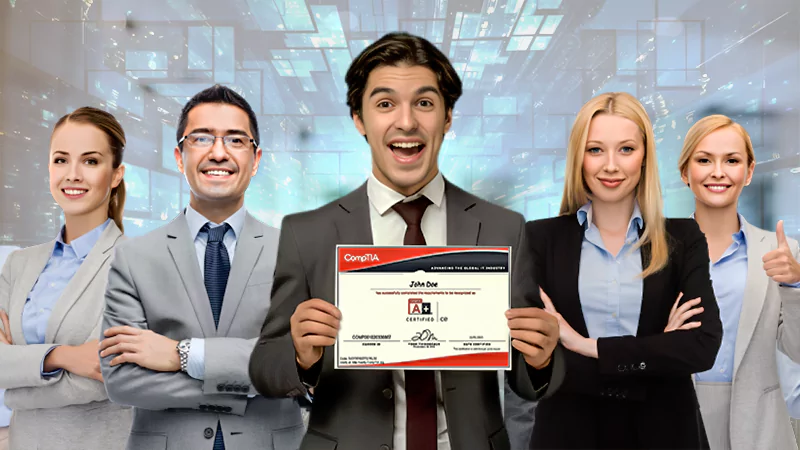 In the fast-paced and constantly evolving technology industry, getting the right certifications can help turbocharge your tech skills for technology career.
If you're looking to break into the IT field, having targeted certifications on your resume proves your skills and commitment to ongoing education.
This guide will explore 14 in-demand tech certificates that can unlock new job opportunities and boost your earning potential. Let's dive in!
CompTIA A+
The CompTIA A+ certification is an ideal credential for demonstrating core IT skills and knowledge. It covers major IT topics like hardware, software, networking, security, and troubleshooting.
Earning this foundational certification proves basic tech competency across areas that IT professionals encounter daily. Many employers view A+ as a prerequisite for IT roles like tech support, help desk, and entry-level system administration.
CompTIA Network+
Building on the CompTIA ITF+ and A+ certs, Network+ focuses specifically on IT infrastructure and networking skills. The exam tests your ability to design, implement, manage, and troubleshoot basic enterprise networks.
Having Network+ on your resume validates your skills in network installation, configuration, media types, protocols, and troubleshooting. It's a useful certification for landing network technician and junior network administrator jobs.
Six Sigma Green Belt
Process improvement is pivotal for businesses looking to enhance quality, reduce costs, and drive greater efficiency. Earning a Six Sigma Green Belt provides evidence of your knowledge of Six Sigma principles along with skills using quality improvement tools, quantitative analysis, and statistical software.
Professionals with Green Belt training can lead smaller enhancement projects, making this certification helpful for roles in quality assurance, manufacturing, IT management, and more. Some universities also offer short-term certifications, like the design thinking certificate program.
These certificates equip graduates with human-centered and experimental design techniques helpful for developing innovative products and services.
CompTIA Security+
With cyberattacks a constant threat, having robust security skills is a major asset. The globally recognized Security+ certification verifies your knowledge of network security, compliance, operational security, threats, and vulnerabilities.
It also covers topics like cryptography, access controls, risk mitigation, and security architecture. Many government and defense IT positions require Security+. It's a strong foundational certification for roles like security analyst, network administrator, and systems administrator.
DID YOU KNOW?
63% of CIOs have expanded their recruitment budgets and are placing a higher premium on job applicants with stand-out technical skills.
AWS Certified Cloud Practitioner
As cloud computing continues to dominate the industry, getting certified in Amazon Web Services can be a smart strategic move. The foundational AWS Certified Cloud Practitioner credential validates your overall understanding of the AWS platform and demonstrates cloud computing knowledge.
While entry-level, this certification serves as a stepping stone toward higher-level AWS certifications that lead to lucrative cloud architect and engineer roles.
Certified ScrumMaster (CSM)
This certification from Scrum Alliance demonstrates your proficiency with the popular Agile Scrum project management framework.
As Scrum is widely adopted for software development projects, having CSM credentials shows you have the skills to lead Scrum teams, implement Scrum processes, and navigate sprint planning meetings.
CSM is especially useful for software developers, product managers, project managers, and development leads seeking Scrum expertise.
PMP Certification
Arguably the gold standard in project management certifications, the globally recognized PMP (Project Management Professional) demonstrates your project management experience, education, and skillset.
Attaining your PMP requires both project management education and experience leading and directing projects. But it validates your ability to oversee budgets, teams, resources, schedules, and risks to deliver successful projects.
This versatile certification opens up lucrative project management opportunities across many industries.
Cisco CCNA
Cisco offers highly respected certifications for IT professionals looking to advance their networking and infrastructure skills. The CCNA (Cisco Certified Network Associate) certification proves you have the knowledge and skills to install, configure, operate, and troubleshoot Cisco networking equipment.
Earning your CCNA allows you to manage more complex enterprise networks and opens up higher-paying roles like network administrator, network engineer, systems engineer, and DevOps engineer.
ALT: Average salary of a technical expert.
ITIL Foundation
ITIL (Information Technology Infrastructure Library) is the most widely adopted framework for IT service management.
Earning an ITIL Foundation certification demonstrates your understanding of key ITIL concepts like service desk, incident management, problem management, change enablement, and continual service improvement.
It's an important credential for any IT professional involved with the delivery, improvement, and support of IT services.
CompTIA Linux+
Most companies rely on Linux in some capacity, either for web servers, cloud infrastructure, or software development. The Linux+ certification validates your skills in Linux installation, operation, maintenance, networking services, security, scripting, automation, and troubleshooting.
It shows employers you have the Linux administration and scripting abilities to excel in sysadmin, DevOps, cloud computing, and other technical roles underpinning key business systems.
Oracle Database SQL Certified Expert
Relational database management and SQL expertise open up lucrative opportunities for managing enterprise data.
With the Oracle Database SQL Certified Expert credential, you can demonstrate your proficiency with database creation, data warehouses, transaction control, data security, backup/recovery, and—most importantly—SQL programming.
This is a key certification for landing database administrator or SQL developer jobs involving Oracle database environments.
Certified Information Systems Security Professional (CISSP)
For those seeking roles managing information and cybersecurity at the executive level, the CISSP certification is the gold standard. This advanced credential offered by ISC2 covers major cybersecurity domains, including asset security, security architecture, access control, cryptography, and software development security.
Obtaining your CISSP proves you have deep technical and managerial knowledge to design, engineer, and oversee robust cyber defenses and risk management strategies.
Certified Ethical Hacker (CEH)
Sometimes, you need an ethical hacker on your side to identify vulnerabilities before the bad actors do. The CEH certification validates your knowledge of ethical hacking procedures, penetration testing methods, system weaknesses, and countermeasures.
Security professionals with this credential understand how to effectively and responsibly break into systems and networks to safeguard assets by strengthening defenses.
Google IT Support Professional Certificate
For those new to tech support, Google offers an introductory IT Support Professional certificate to build core IT skills. The online program covers troubleshooting, customer service, networking, operating systems, system administration, and security. While entry-level, completing the program shows you have fundamental IT abilities.
It can lead to tech support, help desk, and desktop support jobs while setting you up for more advanced certifications.
Conclusion
The certs above represent some of the most in-demand technical credentials across hardware, networking, cloud, and programming.
As technology rapidly evolves, staying up-to-date through continuous learning and certification will be key for long-term growth and progress in this dynamic industry.
---