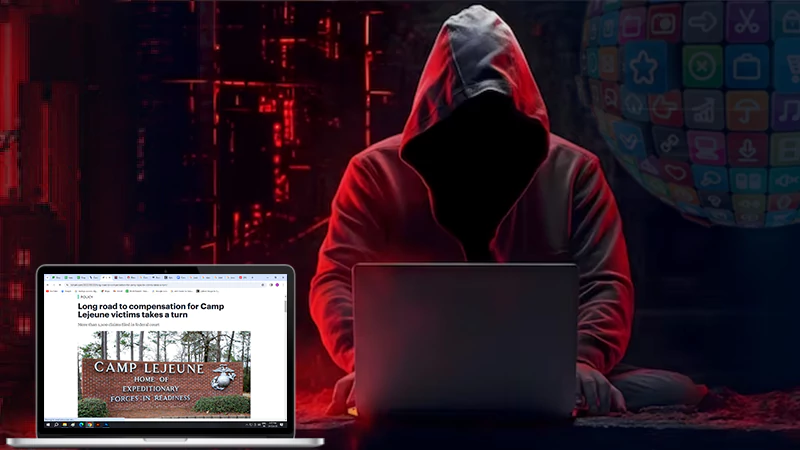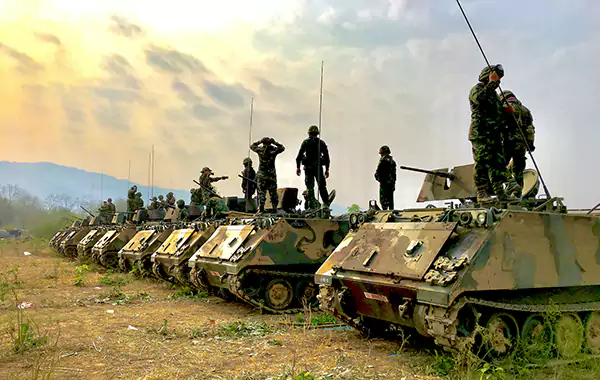 The water contamination incident associated with Camp Lejeune Marine Corps Base is not unfamiliar, especially for North Carolina residents. Around one million veterans and their families consumed highly contaminated water, as per the Centers for Disease Control and Prevention (CDC).
The water toxicity persisted for three decades (1950s to 1980s). Though the issue was discovered in 1982, it was not until 1985 that the three contaminated wells at Tarawa Terrace, Hadnot Point, and Holcomb Boulevard were shut down.
Decades of toxic water consumption manifested in the form of life-threatening conditions like adult leukemia, non-Hodgkin's lymphoma, multiple myeloma, etc.
Under the Obama administration, the victims were eligible to receive free healthcare for their injuries. However, it was President Joe Biden who made legal justice possible.
As soon as the Camp Lejeune Justice Act (CLJA) was passed, scammers saw the opportunity to make their pockets heavy. In this article, we will discuss how misleading claims were (and still are) capitalizing on military servicemen's vulnerabilities.
The CLJA's Scope and Limitations
The Bill supporting Camp Lejeune victims' rights was passed in August 2022. As per the Bill, the Federal government would voluntarily lay down its sovereign immunity to compensate for the sufferer's losses. However, nobody could directly file a lawsuit.
The Camp Lejeune Justice Act of 2023 permitted victims to lodge an administrative claim with the Judge Advocate General (JAG) of the Navy. If the JAG failed to settle the case within six months of filing, the claimant could proceed forward with a lawsuit.
To date, more than 90,000 applications have been filed with the Navy JAG. Plus, 1,100 lawsuits are awaiting settlements or trials. How did this come about? Despite the timeline, the Navy has not settled a single case due to issues of staffing and funding.
Moreover, the statute of limitations for this litigation was fixed two years from the date of passing the Bill. This means sufferers only have time till August 2024, after which the gates of justice will close permanently. Have victims succumbed to their injuries, given the interim?
Many have, mostly due to the age and severity of their cancers. Any further delays would only work in the government's favor.
Do You Know:-The toxic VOCs found in the Camp Lejeune drinking water included: Benzene, tetrachloroethylene, TCE, and VC, all classified as cancer-causing chemicals.
Scammers Attempt to Cash in on the Crisis
Camp Lejeune is the worst-ever water contamination crisis in US history, and its lawsuit is the largest-ever mass tort. With claims easily reaching over 500,000 by the time the filing window closes, it's no surprise that a lot of misinformation is circulating.
One famous example, as exposed by Kentucky veteran Brian Amburgey, was that of a social media scam, particularly across Facebook. Digital marketing agencies, not lawyers, are targeting possible veterans and Camp Lejeune victims with misleading online advertisements.
For instance – an ad window may pop up on Facebook claiming that the viewer is entitled to receive so and so money in settlement. Once the ad is clicked, the user is directed to an online form that requires their details. It's often stated on such forms that they will be sent to a reliable attorney.
Unfortunately, most turn out to be a scam at best. Some scams have gone as far as stating that the government has kept aside $21 billion for Camp Lejeune case settlements.
One even had an image of Amburgey claiming that he had received $35,000 in payouts. The Kentucky veteran called out such ads for what they are – "a complete lie."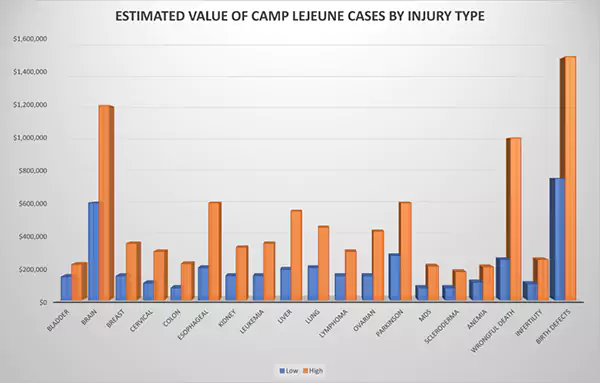 (This graph shows the estimated value of Camp Lejeune cases by injury type).
The Solution and the Way Forward
Many veterans (especially those well advanced in age or disease) are fearful of leaving behind their families with nothing. The delays in plea settlements are only adding insult to their injuries. Not to mention the shameless scams that are preying on their vulnerabilities and desperation.
TorHoerman Law suggests getting directly in touch with reputed attorneys who can provide end-to-end legal support. This includes gathering evidence (service and medical records), fulfilling documentation requirements, and more.
As of now, the government has introduced the early settlement program to expedite the process and reduce claim numbers. The only problem with this move is that the compensation is too low.
It may make sense for cases where proving a direct link between water toxicity and the claimant's injuries is challenging. Otherwise, victims are only setting themselves up for being shortchanged.
Parting Thoughts
In any case, the first Bellwether trial for this litigation is expected to take place early next year. Even a master complaint has been filed, consolidating common allegations associated with the lawsuit. The trial discovery will be categorized into three 'tracks' to address different categories of applications.
The court has only disclosed conditions falling under Track 1 – bladder cancer, non-Hodgkin's lymphoma, kidney cancer, and Parkinson's disease. Ever since the announcement of this scheme, claim filing has increased (by an enormous 300%).
As the first settlement news breaks out, case numbers will jump further. It's now more important than ever for victims to be aware of social media scams and contact reliable attorneys directly.
---