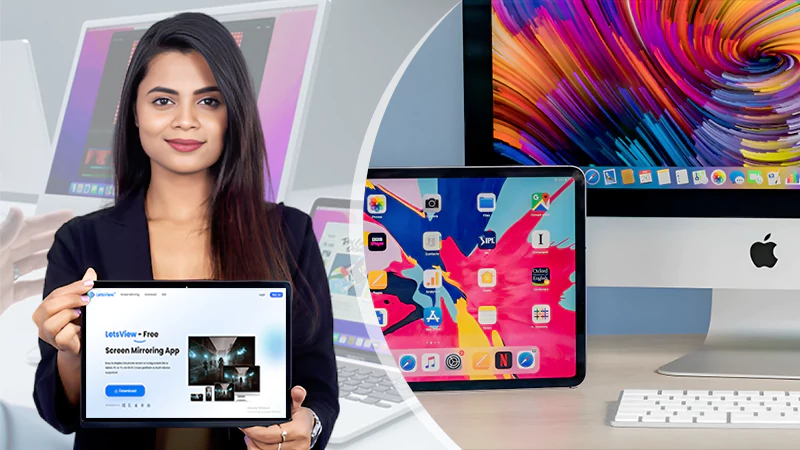 In this technologically advanced age when companies and entrepreneurs are highly competitive, working with a second monitor can improve productivity. You may be working from home or in an office workspace, and having an iPad which is easily adaptable, is cost-effective.
An iPad as a second monitor is a great multimedia device that can be utilized to get more work done in less time. From video conferencing in an office space to live-streaming your play-off in online gaming, screen mirroring can be used for varied purposes.
In this article, we are providing a step-by-step process to understand the advantages and usage of an iPad as a second monitor.
Using A Second Monitor
Utilizing an iPad as well as a desktop is the most feasible method to increase your work efficiency. It is also called screen mirroring because you are using two screens that are controlled by one computer. It becomes a visual extension of your workstation with endless benefits.
Displaying two pages at once is highly effective for students who are learning from home.
Likewise, teachers can use it for Zoom classes while checking online documents on the second monitor.
In an office setup, having an operational display with stats and reports on one screen and providing assessment on the other becomes easier.
Graphic designers often use it for seamless workflow as they analyze ideas and draw on each other for a larger display.
Coders who want to improve efficiency use a mirroring app for faster work processing.
THINGS TO CONSIDER
If you are using an iPad with Windows, then you use a cable to connect the two devices. However, with a Mac, along with connecting to the same Wi-Fi, you should also switch on the Bluetooth to work wirelessly.
Advantages of Using an iPad as a Dual Screen Arrangement
Multitasking is what drives small and big companies towards achieving their goals faster. Improving overall productivity while maintaining the systems should be seamless, and a screen mirroring app with an iPad can boost your delivery speed.
Analyzing huge amounts of data in one monitor and providing instant feedback on another monitor is beneficial for the employee and the company to make informed decisions.
The set-up between the two screens is easy to install and adapt accordingly.
With a dual-screen arrangement, you can run numerous applications at once, and therefore it is easier to manage.
From an iPad to a desktop, Mac, or Windows, you can share relevant data with a drag and drop from one screen to another.
The most significant feature is that viewing documents concurrently becomes hassle-free.
As you can see in the graph below, the market share for wireless displays is predicted to exponentially grow in the coming years till 2029. Adaptability to newer technologies is therefore the need of the hour to keep progressing.
Steps to Use an iPad as a Second Monitor
Here is a step-by-step process to use an iPad as a second monitor.
Step 1: Make sure that your desktop or laptop and the iPad are updated with the latest software. Also, both devices should be connected to the same, strong Wi-Fi network.
Step 2: On your desktop, download and install a free and efficient screen mirroring application, like LetsView.
Step 3: Go to your laptop/desktop and iPad settings, to check that you have mirror screening switched on.
Now, you will be able to view and share content on both screens seamlessly.
How to Choose the Right Screen Mirroring App
As mentioned previously in this article, screen mirroring can be used for various purposes, both personal and professional. With so many applications online, it could be difficult to choose the right software.
Once it is clear if you want to utilize dual-screen arrangements for Zoom meetings or simply for learning, you can select an app that fulfills your requirements. LetsView is the best in the industry because, unlike other similar ones, it is absolutely free and easy to install and use.
LetsView is accessible for international customers as it supports 18 languages for countries like China, Britain, Germany, Japan, and many others. It also allows users to display their phone screen on a computer or TV wirelessly with just one click.
You can also record your screen work with a screen annotation facility with the help of the LetsView app.
Conclusion
The world is moving fast, with demanding roles in every entrepreneurial sector. For moving ahead of your competition as a learner or as a business owner, mirror screening is the best method. You can use it for graphic designing or for coding, your productivity, and speed with a dual monitor will help your organization succeed and achieve all your goals.
---