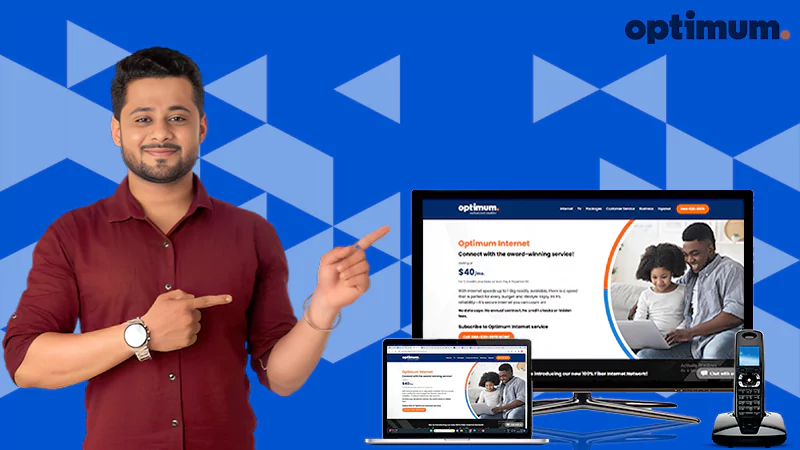 Optimum On-Demand stands out as a practical choice for individuals wishing to enjoy a wide variety of films, TV series, and other entertainment from the comfort of their homes in an era where streaming services have become the norm.
It is significant to comprehend what each service offers when paired with Optimum Internet plans and how it operates before signing up, though. 
To assist you in making an informed choice, we will go into detail about the required information concerning Optimum On-Demand in this blog!
What Do You Need in Order to Use Optimum On-Demand?
You must be a user to access Optimum On-Demand. This implies that you must have a functioning account with a cable package and an internet plan.
Ensure that you have the required plans and subscriptions before you get the Optimum On-Demand for your home network.
Benefits of Getting Optimum On-Demand for Your Home
Here are the most notable reasons why you have to have an OD subscription for your home entertainment:
A Vast Library of Content
Movies shows, documentaries, and other types of material are all available.
Both recent releases and time-tested favorites are available. There is something for every member of the family thanks to this large assortment.
Live TV vs. On-Demand
It is pivotal to recognize the differences between live TV and on-demand material. You can pick and view material using the service at your convenience.
Contrarily, live TV enables channel broadcasting in real-time, which can call for a different cable box or subscription.
Supported Streaming Devices
Various streaming devices, including smart TVs, PCs, tablets, and smartphones, can access the service.
Before signing up, make sure your desired gadget is compatible with the website or app.
No Additional Cost
Optimum On-Demand is often a part of your current cable subscription, in contrast to certain services that demand an additive price for access to On-Demand content.
This implies that you will not have to pay extra to access the platform's content.
This graph shows the Most popular video streaming services based on audience demand for original TV series worldwide in 2022, by difference from the market average.
Friendly User Interface
The interface of the service provider's platform is user-friendly. It is usually simple to find your favorite shows or films by navigating the platform.
To discover material quickly, you can utilize categories, filters, and search tools.
Parental Restrictions
In order to help you limit access to particular content based on age appropriateness, it provides parental control capabilities for parents. This is a helpful tool to make sure kids enjoy age-appropriate content without running across inappropriate information.
Streaming Quality
Your internet connection will determine how smoothly you can stream. For the best watching experience, a steady, and quick internet connection is required because it supports high-definition and even 4K video for compatible devices.
Offline Watching
It might be possible to view some content offline. When you wish to watch a video without an internet connection, such as when traveling, this capability comes in useful.
Continual Updates
Optimum On-Demand changes its content inventory frequently to include fresh titles and get rid of outmoded ones.
Subscribers will always have access to new and timely entertainment options thanks to this, and they can also contact Optimum en Espanol for more info. 
Optimum On-Demand vs. Other On-Demand Platforms
With so many alternatives available, each service provider is fighting for a spot in your entertainment schedule. Making the best decision for your watching preferences may depend on how the service compares to other on-demand services. There are many of them accessible.
Although Optimum provides access to a wide selection of films, series, and documentaries, it mostly depends on your current cable subscription for content. In contrast, streaming giants have enormous, continuously growing libraries of original, exclusive material.
These platforms are frequently regarded as the best places to find acclaimed films and binge-worthy shows. If you want to seamlessly combine cable channels and on-demand programming in one location, it might be a better option.
The cost is another significant consideration when picking a service provider. Optimum On-Demand is normally included in your cable package, so there is no extra charge to use it. Separate services charge a monthly subscription.
When evaluating services, it is decisive to take your budget into account, as these costs vary depending on the subscription tier. One of the biggest benefits is that it provides a reasonable alternative for current subscribers.
If you are not interested in conventional cable TV offerings, standalone platforms might provide greater options.
Fact:
In 2020, Forbes estimated that there were 1.1 billion subscriptions to online video streaming services worldwide.
Final Thoughts
With a vast variety of programming available for your entertainment requirements, Optimum On-Demand is a useful complement to your membership.
You can maximize your membership and take advantage of the convenience of on-demand streaming by being aware of the necessary features of this service.
So, if you have a subscription, be sure to explore the universe and learn about the films and episodes that are waiting for you there. If you cannot avail of this service in your area, consider other providers such as Spectrum Deals, etc. for similar services!
---